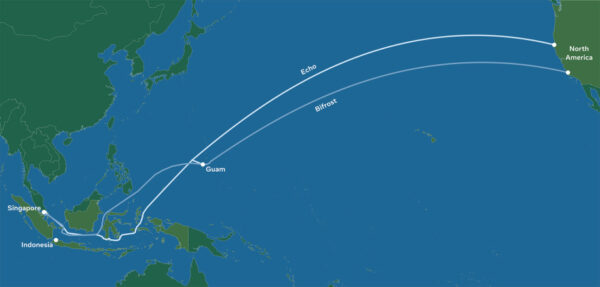 Facebook yesterday showed off ambitious plans with Google and regional telecom operators to lay two subsea cables that run from the United States to Indonesia and Singapore, promising to boost the data carrying capacity across the Pacific by 70 per cent.
One cable, called Echo, will be built with Alphabet, Google's parent company, and Indonesia telco XL Axiata. It is to be completed by 2023.
The second, called Bifrost will be constructed with Telin, a subsidiary of Indonesia's Telkom, and Singapore's Keppel. This is expected to be up in 2024.
While such subsea links are usually interesting only to telecom industry watchers, what's noteworthy about this latest connection is the route that the cables are taking across the vast Pacific ocean.
Instead of taking the usual stops in Northeast Asia hubs, such as Japan, Taiwan and Hong Kong while on-route further south, the new cables will run for long distances undersea through to Guam, then across the Java Sea before they land in Indonesia and Singapore.
The reason these two cables are taking a "diverse" route isn't clear from a Facebook post announcing the plans yesterday.
However, there's much background to this and it reflects the growing geopolitical calculations that global tech firms have to make today.
Just last year, Facebook, Google and a consortium of other partners had to change their plans to link up the Asia-Pacific region with a separate subsea cable project.
That link, which connected through Hong Kong, faced opposition in the US government, as part of the growing competition between the US and China.
It seems the US tech giants have now decided to go for an altogether different route this time.
Away from the usual Northeast Asian hubs, the new cables could just be further away from regulatory scrutiny. Yes, these plans are still subject to regulatory approval, according to Facebook.
Another question, of course, is the cost of running these two cables over a large ocean with no users there to tap on them, instead of going through regional hubs to maximise their use.
Rather like shipping and flight routes, subsea cables usually follow closely the areas where commerce is, to get a faster return on the literally sunk cost.
It's possible the tech firms have done their calculations and decided the Southeast Asia digital economy is now worth the investment for a more direct link.