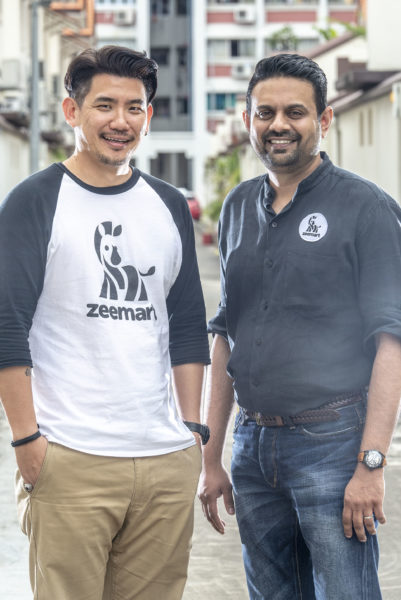 Food suppliers, restaurants and catering services in Singapore are now able to order, invoice and pay for fresh foods, drinks and other food items on a new online e-commerce service called Zeemart Zoom.
Available to the 8,000 food outlets here, the service which started last month also includes procurement financing for those who need it, said Zeemart co-founder and chief executive officer Neeraj Sundarajoo.
While the service makes procurement more efficient and convenient, its main selling point is lower prices. Zeemart bulk-buys the meats, vegetables, dry goods, drinks and other items which pushes unit prices down.
"The bigger restaurants, hotels and food chains have consumer more goods so they can negotiate for better prices," said Sundarajoo.
"Because we aggregate the demand and buy in bulk, we can also get good deals. We pass this cost savings on, especially benefiting the smaller F&B outlets," he added.
Zeemart Zoom is a first here for a B2B e-commerce service for the F&B industry. It is a new service layered on top of the F&B procurement platform developed by Zeemart which was founded in 2016.
Its procurement platform – also a first for the industry – connects buyers and suppliers so that they can easily procure food items. Currently, 1,000 outlets here have signed on to use the platform.
About 300 of them, including Potato Head, Wee Nam Kee Chicken Rice and Jones the Grocer, have been integrated on the platform. The firm is currently working with about 100 suppliers.
Zeemart Zoom adds the e-commerce function, giving the F&B outlets end-to-end online service that includes sourcing, ordering, payments and delivery.
In their initial research, Zeemart discovered that chefs may be whipping up the latest scrumptious dish but they have little time to focus on managing costs. Hence, profitability is a major challenge leading to 50 per cent of F&B closures within the first three years of operations.
"Traditionally, procurement was a manual affair. Call the supplier or send a text message if they want to order anything," said Sundarajoo.
"There are no purchase orders, quotations or invoices. Purchases were also on credit with food suppliers giving 30- to 90-day credit," he added.
Consequently, there is little visibility on costs. Zeemart's procurement platform allows chefs and business owners to track procurement and delivery, so that they always know their operational costs.
Last month, Zeemart raised S$7 million for product development and market expansion. The funding was led by Indonesian-listed investment firm Kresna Graha Investama. To date, Zeemart has raised about S$10 million.
Zeemart co-founder Keith Tan said that by studying the buying pattern of transactions, it had a better understanding of the problems faced by the F&B industry.
"We knew what they were buying, so we started aggregating procurement, especially benefiting the small and medium-sized outlets with better prices," he told Techgoondu.
"Then we organised the bulk buys for the outlets in a similar vicinity. Food suppliers benefit because it makes distribution more productive and effective," he added.
One case in point is the big malls where cargo unloading bays are limited. Instead of having different food suppliers delivering supplies to various outlets in a mall, Zeemart aggregates the demand for that venue.
Either its delivery truck or the food supplier's truck needs to make only one delivery to that mall, making logistics easier to manage.
Zeemart is now expanding to Indonesia and other countries in the region. Opportunities are good because the Southeast Asian food sector is worth US$400 billion, said Sundaraoo.
"Our goal is to bring the price, for example, of strawberries down, so that the supplier enjoys better margin, and food buyer enjoys better costs," he added.