Ravenlok is a charming third-person action adventure hack-and-slash game set in a fantastical world with elements inspired by Alice's Adventures in Wonderland, where you get to meet some cute talking animals who need a hero to rid their world from evil.
Developed by indie studio Cococucumber, Ravelok's retro pixelated art still looks visually impressive for the limited locations you can explore.
Its simple combat, spartan inventory system and straightforward user interface makes it a friendly game that is perfect for beginners, with some satisfying boss battles.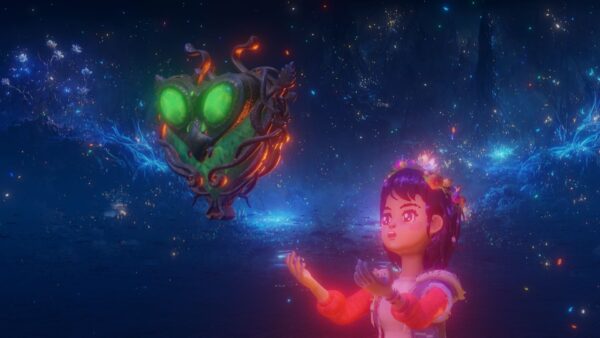 Down the rabbit hole
You play a young girl who has moved into a new home with her parents. While unpacking and cleaning up the new place, she finds a mirror in the garage which transports her into the fairytale realm of Dunia.
The inhabitants address our little heroine as Ravenlok on account of her dark hair, and look to her for help in getting rid of the curse brought about by an evil Queen.
Meeting the quirky and usually mild tempered Non-playable characters (NPCs) in the form of cute animals, mainly bunnies in the game is quite enjoyable. Despite not having voiceovers, the dialogue for each character is expressive and unique, making them interesting to talk to.
The NPCs also tend to be very polite and civilised in asking for your help in completing quests. Most quests require you to go somewhere, get something, bring it somewhere else, and kill off some enemies along the way.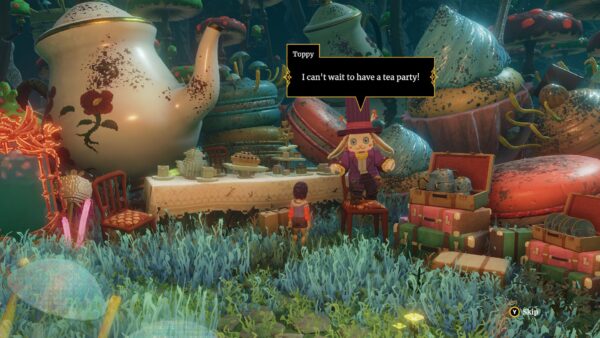 Our little hero is equally polite and is a righteous person who calls out wrongdoing when she sees it, which makes for a wholesome experience. That is, until she has to hack and slash her foes.
Not a regular tea party
Armed with a sword, our protagonist only has one basic slashing attack. As she levels up by collecting feathers from slaying enemies and completing quests, she can unlock special combat skills with different cooling periods and types of damage to unleash on her foes.
These include Bullet Spray, where you deal frost damage to several enemies, and Fireball Tremors where you damage a single enemy with a strong downward slash laced with fire.
Enemies in Ravenlok include hostile mushrooms, various plants, bugs, armed guards and other interesting creatures.
There are various bosses to battle, and most of them are nice enough to have a conversation with you before engaging in battle. An exception is the evil Queen herself who is your typical domineering and power hungry villain.
Bosses include Tweedledum and Tweedledee inspired by from Alice's Adventures in Wonderland, as well as a gigantic bison, hydra, crab and of course, the evil Queen herself.
Ravenlok's boss battles are nothing to sniff at, though – it takes a lot of dodging, attacks and using items at the right time in order to beat them.
Some bosses have special attacks that can do serious damage, forcing you to use your entire arsenal of hacking and slashing, special attacks, bombs and well-timed evasive actions in order to defeat them.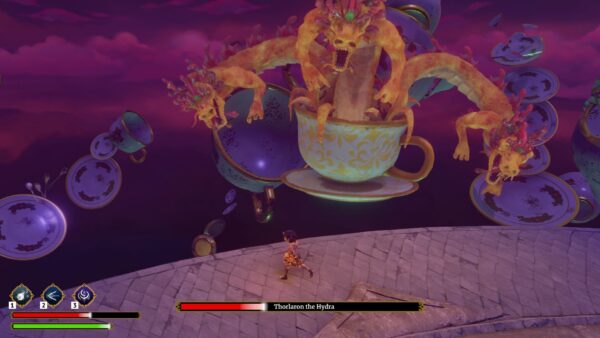 Ravenlok is forgiving enough to place the protagonist in a safe place after defeat. This helps you get better prepared before trying again, and serves as a good introduction for harder action combat games. For gamers who prefer a challenge, the game has three difficulty levels to overcome.
Besides combat, Ravenlok also has a few stealth missions and puzzles to solve. Stealth missions are pretty forgiving since you just have to endure a mild shooing off from the patrolling guards when you get caught and restart with no penalty. Guards seem pretty short sighted and will not detect you unless you run right into them.
Ravenlok's puzzles test your power of observation and the solutions can be rather obscure, but thankfully most solutions are usually near at hand and not too tedious to figure out.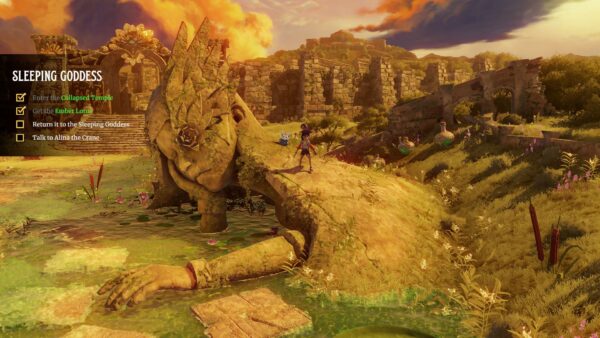 What irked me is Ravenlok's fixed camera, which makes sneaking missions and boss battles that involve a lot of running around rather challenging — you can't see if you are running towards a guard or the boss when the protagonist is facing you.
Through the looking glass
Ravenlok's various areas can be accessed by going through mirrors, murals and paintings. Mirrors can also be activated for fast travel, which helps to avoid areas where enemies spawn every time you enter.
There are a couple of merchants who sell consumables, such as health potions and bombs, as well as a stall where you can level up, so expect to be travelling to visit them very often.
Money can easily be obtained by defeating enemies and breaking jars, and jars automatically respawn when you leave and re-enter the area, so there is always money to pick up if you don't mind walking back and forth and breaking jars repeatedly.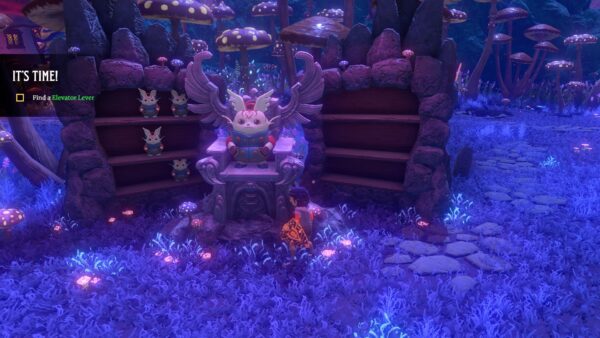 In addition, Ravenlok offers collectibles in the form of bunny figurines that can be collected by performing a dance in front of them, and they can be exchanged for useful rewards in the form of potions and bombs at a vendor's stall.
Unfortunately, Ravenlok's inventory system is pretty barebones and limited. The protagonist's sword is not changeable or upgradeable, she does not wear armour, and the shield does nothing.
What is really useful in her inventory are consumables such as healing potions and various bombs. She also carries single-use quest items and cosmetic items like hats that she can wear.
Although Ravenlok does not feature any voice acting and all the dialogues appear as text in speech bubbles, this adds to the fairytale feel of the game.
Despite its pixel styled graphics, the fantastical landscapes are beautiful and a joy to gaze upon, but it makes one wish that there are more areas to explore.
On the whole, Ravenlok is a short game that can be completed in about five hours, with a rewarding ending but a feeling that the game is over all too soon.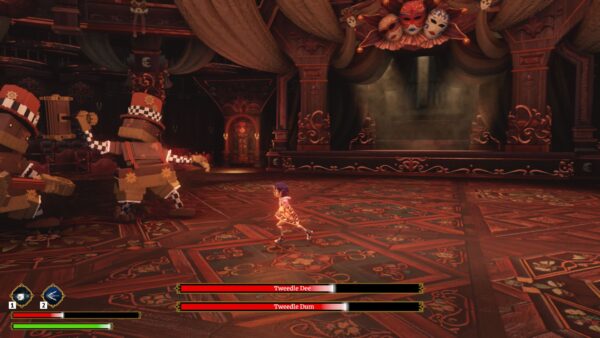 TL;DR
If you seek a jaunt through Wonderland, meeting cute creatures and bashing villains while taking in some beautiful scenery, Ravenlok will offer a short and enjoyable escape.
It is a great game to introduce young or new gamers to action combat and puzzle games, with some bosses that can put up quite a fight.
Ravenlok is free to play on the Xbox Game Pass on the Xbox Series X|S and Windows PC, and is available for purchase at S$36 at the Xbox Store and S$19.48 at the Epic Game store.
Yaay
Beautiful landscapes and levels
Interesting and friendly characters
Satisfying boss battles
Naay
Fixed camera angles hamper sneak missions and battles
Short game
Rather obscure puzzles