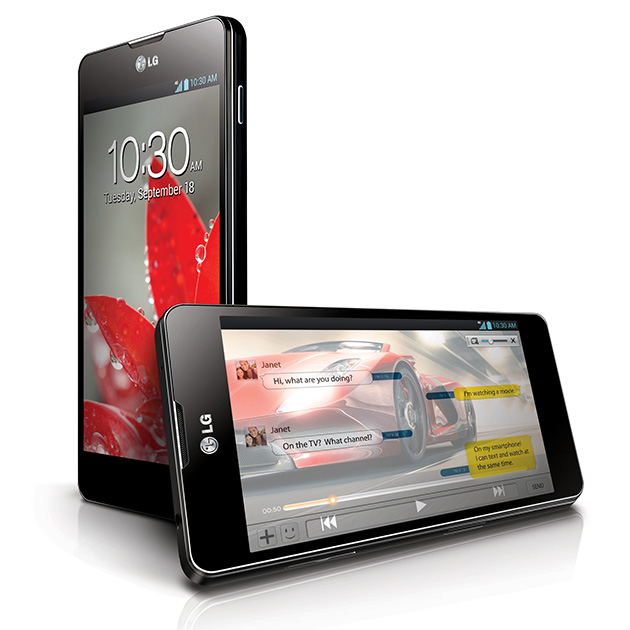 LG's Optimus G was unveiled in September last year – an age ago in mobile electronics – and will finally be available in Singapore this Saturday for  S$798 without a telco contract.
The Optimus G is undoubtedly the first LG phone to warrant any real excitement, a fact that even LG executives on hand at the launch event were not shy to admit. What's all the fuss about?
For one, the Optimus G is easily the smartphone with the best hardware design to come out of the Korean company, and it has won several awards to prove it.
It actually looks a bit like the Xperia Z, mostly reflective glass with metallic accents. There's some sort of patterned finish on the back of the phone that looks pretty when it flashes under the light.
A 4.7-inch display (1,280 x 768) covered in Gorilla glass shows top-notch clarity and brightness. It's not full HD, but you probably won't be able to tell the difference on such a small device.
There's no gap between the glass and the display, which provides great viewing angles and allows the phone to stay thin.
On the whole, the Optimus G just feels a lot less "cheap" than past LG smartphones. It's slim and stylish, and packs some of the latest specs, including a quad-core processor, 2GB of RAM, and LTE support.
Thankfully, LG's custom UI skin also received an overhaul. It looks a lot cleaner and slicker, a vast improvement over the previous "cartoon-y" versions.
The 13-megapixel camera, unfortunately, isn't up to par. The quality of the photos pales visibly in comparison to other phones where more effort was put into imaging.
It does, however, has some neat shooting features. A "Smart Shutter" function automatically senses vibration or movement of the subject and adjusts the shutter speed for the best shot. There's even a "cheesy" function, where users can activate the shutter and take a picture simply by saying keywords aloud, such as the word "cheese".
Other interesting software enhancements include the ability to overlay one app on top of the other. Users can adjust the transparency of the top layer, so that you can, for example, reply to a text message while still watching a video.
The overlay feature also works with LG's QuickMemo app. Users can scribble notes over whatever app they're currently running for easy reference. This could be useful in a number of cases, such as noting down a phone number to dial it later.
At S$798, the Optimus G will likely see some attractive telco discounts. But if you're going to buy it without contract, and do not care for any of LG's software enhancements, it makes more sense to order the Nexus 4 online. The latter is essentially the Optimus G in a slightly different body and at a much lower price.