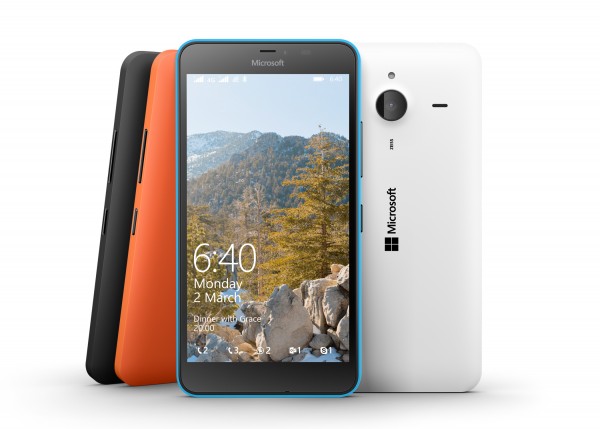 Microsoft has updated its mid-range Windows Phone line with the 5-inch Lumia 640 and 5.7-inch Lumia 640 XL, adding support for 4G and a year's access to Office 365 applications at an affordable price of S$299 and S$429 respectively.
Launched in Singapore last week, both devices are also Windows 10-ready. They can be upgraded to the new operating system when it becomes available later this year.
For now, the phones ship with Windows Phone 8.1, whose Lumia Denim update offers a Glance Screen that displays the time, missed calls, texts and e-mails and other social media notifications even while the screen is off.
A quad-core Qualcomm Snapdragon 400 processor powers each of the smartphones, which are equipped with 1GB of RAM that should be sufficient for the resource-light Windows Phone OS.
Despite size differences, the display on Lumia 640 and 640 XL adopt the same 1,280 x 720 resolution, at a time when sharper Full HD (1,920 x 1,080) screens are becoming standard fare even on mid-range phones.
Nevertheless, both are quality IPS (In-Plane Switching) panels hardened with Corning Gorilla Glass 3 to guard against drops.
The 640 XL has a 5-megapixel front and 13-megapixel Zeiss Optics rear camera, while the 640 has a 1-megapixel front and 8-megapixel rear lens that promises detail-rich photos in low light, which we would be happy to test.
In terms of mileage, the Lumia 640 has a 2,500mAH battery and the 640 XL a 3,000mAH one, which Microsoft claims will offer almost a day of talk time.
Both Lumias offer a one-year subscription to the Office 365 Personal suite of applications that includes access to Word, Excel, PowerPoint, Outlook and OneNote on the phone as well as a PC or tablet, and 1TB of OneDrive storage and 60 Skype world minutes.
The Lumia 640 will be available in glossy cyan, orange, white and matte black, with the Lumia 640 XL in matte cyan, orange, black and white.
Both phones are available at resellers at Funan DigitaLife Mall, GadgetWorld, 3Mobile and Handphoneshop outlets. All local telcos will also sell the devices on contract.