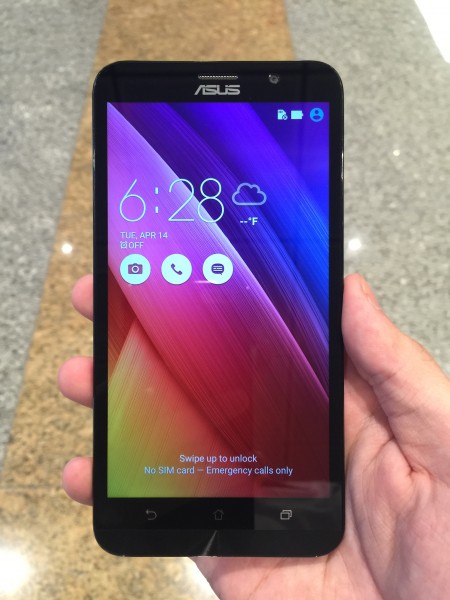 Asus has updated its well-received Zenfone low-cost smartphone line with five new models under the Zenfone 2 moniker, including the world's first phone with 4GB of RAM.
All variants feature enhanced ergonomics and internals, with prices starting from S$249 for the base model.
The Zenfone 2 features a redesigned body that extends the hairline metallic finish in the bottom strip of the original Zenfone to its rear, which arcs more dramatically than before to offer a sturdier and more comfortable grip.
What is also significant is that all Zenfone 2 variants now feature 4G 150Mbps connectivity, a piteous omission in the previous series.
The flagship in the range is the ZE551ML variant that comes with a 5.5-inch Full HD (1080×1920) screen, 4GB of RAM and 64GB of storage (S$499 without contract).
It uses the latest quad-core Intel Atom Z3 processor running at 2.3GHz and pairs that with a PowerVR G6430 graphics chip that promises to deliver the raw power necessary for demanding apps.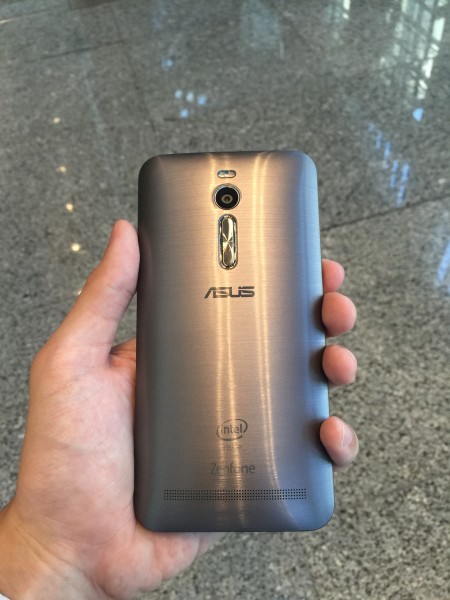 Trying out the phone at the launch event, the Zenfone 2 feels infinitely more premium than its older sibling, thanks to its rounded corners and a slimmer, more ergonomic profile that made the 170 grams phone feel handy.
The Zenfone 2s hooked up onto LED TVs and steering wheels at the event delivered superb graphics and buttery-smooth frames in Asphalt 8, both on the TV and phone screen, a testament to the real-world capabilities of the phone.
Its screen-to-bezel ratio improves to 72 per cent, which is better than the 68 per cent on iPhone 6 Plus. This means nearly three quarters of the Zenfone 2's front is occupied by the screen, allowing Zenfone 2 variants with 5.5-inch screens to fit in a body typically meant for 5-inch phones.
Asus is also one of the few vendors that manages to include a removable back cover without resorting to glossy plastic. While that allows for easy access to its two SIM and micro SD card slots, its battery remains non-removable.
Turning our attention to the camera, they now feature 13-megapixel rear and 5-megapixel front sensors with f/2.0 wide-aperture lens, which helps users fit people into selfies more easily.
Asus claims to have improved its low-light photography capabilities on the Zenfone 2, but shots taken within the convention hall where the launch took place appeared blotchy, even if they are bright. We will run more tests as we spend more time with the review set.
All 5.5-inch Zenfone 2 variants feature 3,000mAH batteries with fast charging capabilities that can reach a 60% charge in 39 minutes. The 5-inch model has the same technology, but utilises a 2,500mAH cell.
Many sizes and capabilities, one Zenfone 2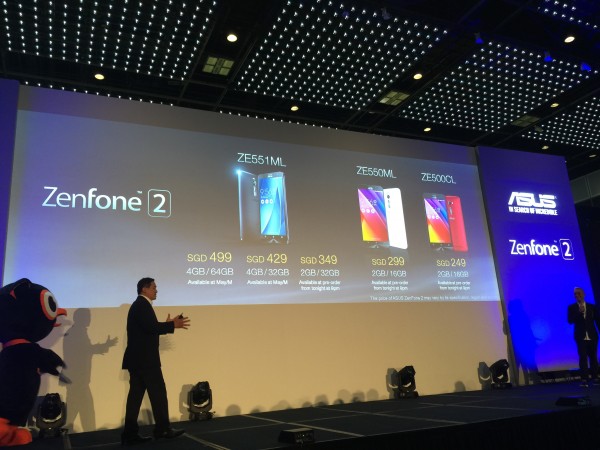 Dissecting the many offerings available under the Zenfone 2 umbrella, two other variants of the ZE551ML exists in addition to the 64GB model we tried. One comes with 4GB of RAM but 32GB of built-in storage (S$429), and another keeps 32GB of storage but drops the RAM to 2GB (S$349).
There is also the ZE550ML (S$299), a 5.5-inch model that has 16GB of storage and 2GB of RAM but uses a slower quad-core Intel Atom Z3 1.8GHz processor.
Finally, the 5-inch ZE550CL (S$249) is also available, but its camera is an 8-megapixel rear and 2-megapixel front affair. It also uses the older Intel Clover Trail 1.6GHz processor. At least it weighs merely 155 grams.
Both the ZE550ML and ZE550CL will also swap the metallic hairline finish on the rear of its more expensive siblings for a matte paintjob similar to those in the original ZenFone. Confused yet?
Therein lies my biggest gripe with the Zenfone 2 – its confusing naming convention. I can see why Asus wants to leverage on a single identifier for marketing reasons, but giving a unique suffix to each variant would make things so much easier for everyone on the sales floor.
The ZE550CL, ZE550ML and 2GB RAM variant of the ZE551ML will go on sale April 18 at Challenger and Asus stores, with pre-orders available from now until April 17th
Retail availability of the two 4GB variants of ZE551ML will commence in mid-May.
For most users, the 4GB RAM, 32GB storage variant of the ZE551ML at S$429 offers the most bang for buck, given the availability of a micro SD slot for storage expansion. A 32GB card will not cost S$70 these days.
The only other model worth considering, in my opinion, is the 5-inch, S$249 one for the less tech-savvy looking for a good, durable phone.