I've been waiting for a pair of speakers like KEF's LSX for a while.
Good looking and compact enough to be placed on a TV console, they are easy to use with their own power amplifier and offer the stereo imaging that is lacking in even the best soundbars in the market.
They are such a simple concept that you wonder why more manufacturers have not seized on the idea of bringing the benefits of traditional hi-fi stereo speakers in a simplified format for today's music streaming audience.
Now, the LSX are essentially two powered speakers – one master and one slave – connected wirelessly on a proprietary 2.4GHz frequency band. You can also hook up to a range of music sources, like from a network share, over Spotify or via Bluetooth on your phone.
KEF's UniQ speaker array on the LSX is made up of four drive units – two 19mm aluminium domes for the highs and two 115mm magnesium/aluminum alloy domes for the mids and lows.
Each is powered by a power-efficient Class D amplifier, so there should be enough juice despite the compact size. This also means you have to plug each speaker to a separate power source to get them running. That's the only slightly different thing from a soundbar, when it comes to setting up.
The LSX speakers themselves are decent lookers, sporting a modern design with fabric wrapped around most of the exterior. They would fit in most living rooms or bedrooms. Looks-wise, they are certainly no worse than a soundbar.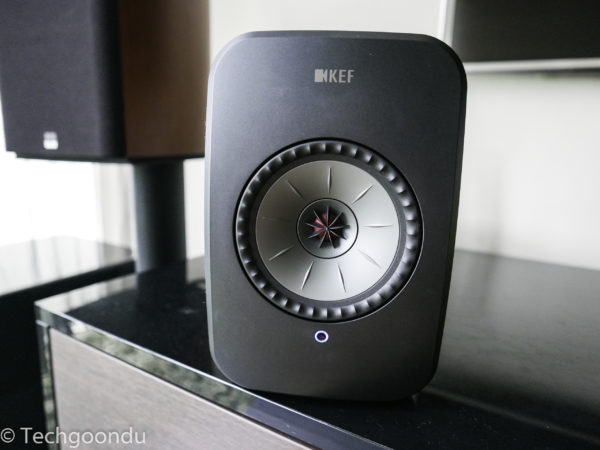 I keep comparing with a soundbar because that's the default option for so many people in tight apartments in Singapore today. A pair of LSX speakers will do a lot more without adding additional clutter.
Setting up is easy, for starters. You power on the two speakers then download an app on your phone and get connected from there, just like with a Sonos soundbar, for example.
If you are asked to update your speaker firmware, you might have to look for an included Ethernet cable to hook up the speakers. Generally, you don't need it, though you can use it if you don't mind one more cable in your setup.
One thing that struck me when I played the first music track – a Sparklehorse song on Tidal – was how much more musical and lively the presentation was. There was no hint of the congestion and tautness that you'd find on many soundbars.
Instead, over many tracks, the two speakers, spaced apart on a console table, came across relaxed, open and clear. The four amplifiers do a good job of holding things together and projecting audio at a quality that belies the size of the speakers.
What I like most about the LSX is the stereo image that you don't get on a soundbar. They bring a more believable image of a band performing in front of you, because each player and singer on stage is more clearly portrayed by the twin speakers.
For their size, the LSX speakers perform admirably by delivering enough detail for a listener who wants a proper music experience. For most genres, from pop to jazz, they don't seem fazed.
Yes, there can be a bit more sparkle in the highs and a little more detail overall, but for the most part, say, the midrange, the LSX won't disappoint most users seeking a compact pair of sound boxes.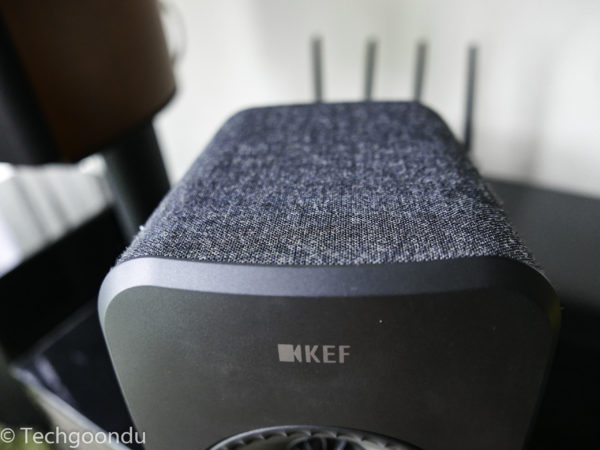 The only worry, of course, is when you get a complex piece of music, say, with an orchestra. That's when the limitations of the system become clear – the separation of instruments, for example, can be better.
What about movies? Yes, you can hook up the LSX to your TV via an optical cable. I played the Bladerunner 2049 movie soundtrack and the LSX clearly didn't lack any bass extension or dynamism. Expect fast-paced attacks and a shift from quiet to loud in an instant.
However, despite the generally impressive showing, I only wish that the speakers would lose a little bloat in the bass on one or two occasions during the entire soundtrack.
It's just something I'm more sensitive to, especially when compact drivers are asked to deliver big rumbling noises on a grand scale. Bass heads may disagree.
If there's another area to be improved, it's the mobile app, or apps. Okay, the basic one gives you the most important settings, including reversing the left/right config in the speakers. It even has an equaliser, which lets you set up the distance between the speakers in a room.
However, the interface can do with a little bit of polish. KEF will do well to look at rivals such as B&O, Bowers & Wilkins and Sonos to see how to jazz up the look and feel. The volume control, for example, seems a little wonky and ends up making things too loud.
KEF has also decided to have a separate app for controlling your sources. So, if you want to get Spotify Connect, Tidal or your network files playing on the LSX, you need the KEF Stream app on your phone. That's a little strange, because you should have both apps in one place instead, for convenience and ease of use.
I'm pointing this out because the KEF speakers are not cheap. At S$1,899, they cost as much as a decent hi-fi setup with separate components, like a digital-to-analog converter or an amplifier that you can upgrade over time.
But I get it. Hi-fi is dead, at least at the entry-level. People want less complexity, not more. At the same time, they still want music to sound good.
What the LSX offers is a good entry point for that experience. They are not compromised by a need to look good or tuck into a tight space below a TV.
Indeed, they look the part of a modern living room. These are lifestyle speakers that sound as good as they look.
If you enjoy music in your living room, I'd try to stretch that budget for a soundbar and seriously consider the LSX instead. Stereo just sounds better for music.