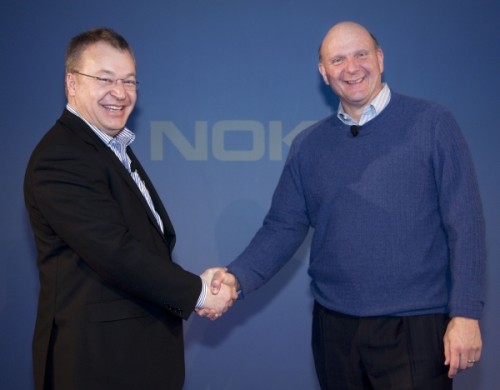 In the few hours after technology behemoths Microsoft and Nokia unveiled one of the most dramatic partnerships in years to take on rivals Google and Apple, terms like MicroKia, Noksoft and NoWin have quickly become popular sarcastic phrases for tech pundits predicting a doomed marriage.
As if the two new allies needed reminding, the jokes are a measure of how uncertain the future is for two companies playing catchup in the smartphone game, despite a deal that seems, on paper, to be joining their still considerable powers to crawl back their rivals' leads.
The challenge is steep. Android is riding high in both market and mind share for fast-growing smartphone sales, while Apple's strong brand keeps it high on many users' wishlists despite being overtaken by the Google smartphone operating system last year.
In comparison, Microsoft's Windows Phone 7 software, which Nokia will be adopting in its phones this year as it gradually casts away its self-made Symbian OS, is way down the charts in number five, with only a small hold on the market.
The best news for Nokia fans will be that the company is finally ditching the dated Symbian OS, which has been the biggest problem holding the company back from launching a successful competitor to Apple's iPhone and Google Android phones like the Samsung Galaxy S.
Notably, the changes were unveiled yesterday by new CEO Stephen Elop, a former Microsoft man, who is also the first non-Finnish to run the one-time paper mill firm which transformed into the world's biggest phone maker in the 1990s.
So far, his deeds have matched his words. Following an internal memo to staff describing how the company is facing a jump into icy waters as their floating platform burnt unabated, he has done what many a Finnish leader at Nokia has failed – cast aside pride and face some hard truths.
Just five months ago, outgoing executive and long-time Nokia stalwart Anssi Vanjoki had said that using Android on Nokia phones would be like Finnish boys peeing in their trousers to keep warm in winter – a temporary solution that made things worse in the long term.
Vanjoki is gone now, as are the Finnish analogies. And Elop has even hinted that the centre of gravity for Nokia could be in Silicon Valley in future, instead of Scandinavia – something unthinkable just months ago. Among other changes: the move from Nokia's own Ovi online services to hook up with Microsoft's ecosystem that includes Xbox Live, for example.
Will the changes matter now? Or are they too late to help Nokia catch up with the leaders?
Lessons from the past are not encouraging. One example is Sony, which was bypassed by Apple in the MP3 player wars in the noughties because it was mired in proprietary technologies and corporate infighting. The Walkman maker is still struggling now to gain the same mojo it had as the top electronics maker in the 1980s and 1990s.
Yet another example, this time closer home, is Palm. The company will forever be remembered as the one which put a PDA in many users' hands, bringing in a new era of mobile computing in the 1990s, just like how Nokia will be seen as a driving force in the same period as cellphones gained widespread use.
But neither company changed fast enough as the market changed. Palm could not come up  with PDAs that offered colour screens, MP3 playback and wireless connectivity, when competitors rushed ahead to wow users. Similarly, Nokia was slow to compete with the iPhone's touch-screen capabilities when it was launched in 2007, instead putting out dated Symbian phones that fell further behind.
Questions are thus inevitable for the Nokia-Microsoft deal.  For sure, the ready-made Microsoft Windows Phone software, which has been getting great reviews from users, will give Nokia a shot in the arm and help save time and money developing a new OS on its own – something that it has failed to do in more than a year with a joint venture called Meego with chipmaker Intel.
But the first question is whether users will be receptive to Nokia phones running Windows Phone. Despite launching Windows Phone 7 to generally good response late last year, Microsoft had only 4.2 per cent of the worldwide smartphone sales in 2010, down from 8.7 per cent in 2009, according to research firm Gartner.
Meanwhile, Android has grabbed number two spot by gobbling up 22.7 per cent of the market in 2010, up from just 3.9 per cent in 2009. Nokia's Symbian, while still top in 2010, has lost share by close to 10 percentage points in the same period, down from 46.9 per cent to 37.6 per cent, and may well be overtaken in 2011 by Android as the most popular smartphone OS.
Sure, Nokia is still the leader in overall phone sales, which include so-called feature phones that do not have as sophisticated Internet features, and it could conceivably use its brand to up-sell Windows Phone 7-based devices to these users, particularly in its strong bases like India.
But the question is whether Microsoft and Windows Phone 7 have enough momentum behind them to push devices into the hands of users. In terms of apps, for example, Apple's iOS and Google Android have far more in their respective stores to bring users onboard.
This is also where you question why Nokia has not chosen to go with Android, which would seem to give it the instant lift it seeks, through the plentiful apps as well as users who are already happy with the underlying interface. Seeing how well Samsung, LG, Motorola and Sony Ericsson have competed with their Android phones in the past year, you'd have expected Nokia to jump onboard a platform that is growing at an astounding 888.8 per cent year over year.
Another issue is how the partnership will pan out. Microsoft has set strict conditions on how its operating system can be customised, for example, telling long-time partner HTC to limit the use of its Sense software interface on its Windows Phone devices.
If Nokia doesn't customise its Windows Phone devices enough, it will end up as another cookie cutter phone maker, competing on price and looks rather than any real innovation. That's bad news for the long term.
On the other hand, it will be to Microsoft's detriment if it focuses too much on Nokia and ignores the HTCs, Samsungs and LGs of the world, which despite putting Android on a higher priority, have more momentum than Nokia over the past year and are crucial to Windows Phone's success.
If this sounds like damned if you do, and damned if you don't, it is. Yet, neither Microsoft nor Nokia can afford failure, which will almost certainly guarantee that they'd be so far behind as to be impossible to ever catch up again with Google and Apple.
The last thing that neither company wants is a partnership of two falling giants in a death hug. But if the two heavyweights do not quickly come up with a "must-have" phone in a market that declares winners and losers every quarter, their combined gravitational pull could just drag them down faster together.