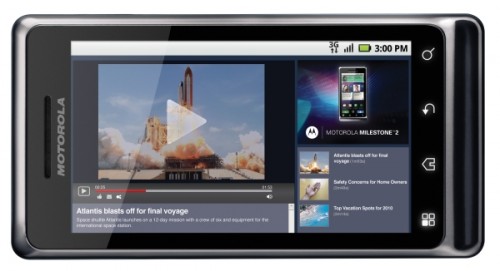 Months after the launch of the Droid 2 in the US, Motorola finally turns to Singapore.
The Motorola Milestone 2, a new iteration of the popular Milestone (and the Milestone XT720) smartphone, is now available for purchase in Singapore from all three telecom operators at a recommended retail price of S$698. So what's different this time round?
In terms of looks, the Milestone 2 is strikingly similar to the original Milestone. It comes with a slide-out landscape keyboard, 3.7-inch touch screen with a resolution of 854 x 450 pixels and the four standard Android buttons lining up the bottom.
The key difference is in the phone's innards. The Milestone 2 comes with a 1GHz processor, a significant leap from the 550 MHz of the original Milestone, and 512MB of RAM. A 5-megapixel camera lets you shoot 720p HD video. The built-in 8GB of storage isn't mind-blowing, but a microSD card slot lets you expand that with up to 32GB of extra space.
The device is powered by Android 2.2, and as usual, Motorola has slapped on their updated MotoBlur software. While they call it their "unique solution… to manage all of your emails, messages, and social updates in one place", we do know of some people who find it annoying, so hopefully there'll be an option to disable it.
The Milestone 2 doesn't really have any unique features that differentiate it from other Android phones (unless you count MotoBlur), although there are some very nice features. For one, the device can act as a 3G mobile hotspot for up to five WiFi devices. Also, baked-in DLNA lets you easily share multimedia files with compatible devices.
If you're still using the original Milestone and are looking for an upgrade, the Milestone 2 is worth a look. Be warned, however, that Motorola has not been quick with upgrades to the Android OS running on their phones, so you may have to be happy with version 2.2 for a while.