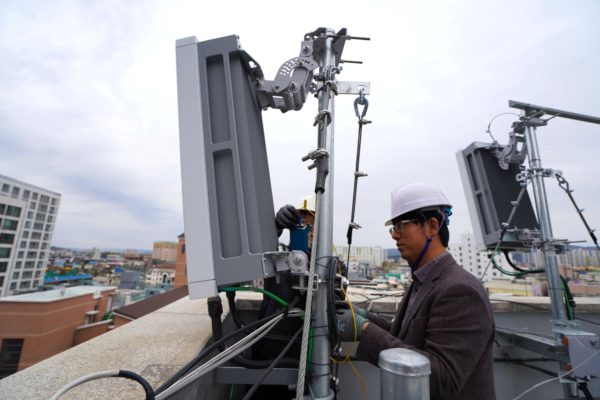 In an interesting twist yesterday, it seems that all four telecom operators in Singapore have bid for the two main 5G licences that offer islandwide coverage.
No surprises that Singtel, the largest player, has put in a bid. None, either, for the joint bid by StarHub and M1, the number two and three telcos which had earlier indicated they would work together to build a network.
The biggest unknown is TPG Telecom, the latest player to join the market. It put in a bid yesterday for a 5G licence, according to the government regulator, but The Straits Times revealed more, that it had gone for an islandwide 5G licence.
This means a fight for the two such 5G licences up for grabs here, which will provide the next-gen mobile service throughout the country. Another two are for limited deployments, say, in factories or industrial areas.
What's most interesting is that TPG has thrown its hat in the ring to build the larger, more costly network. This means it is looking to set up a new network instead of simply being a virtual 5G operator, that is, leasing access to a 5G network from others to offer a service.
This is surprising given the costs of 5G rollout here, which have to include a S$55 million reserve price for each 100MHz lot of the 3.5GHz band. Bandwidth isn't free, after all.
Costs are a possible reason why StarHub and M1 have teamed up this time, instead of going in alone. So, why has TPG gone for the riskier option?
It's hard to say, given the telco doesn't reveal much, even years after it first won its right to be the fourth player in town. Back in 2016, it paid a hefty S$105 million licence (over a reserve price of S$35 million) to offer 4G here, beating rival MyRepublic in a costly bidding war.
Despite that, TPG has yet to start charging for its 4G service, which it launched last year but has extended as a free trial to users who sign up with it.
Thus it may leave many scratching their heads that it is bidding to build a new 5G network. It's safe to say TPG hasn't monetised any substantial returns yet from its 4G investment, so why is it going for 5G?
Remember the Singapore 5G networks as required by the regulators are "standalone" versions, which mean telcos have to build them with a lot of new equipment rather than simply upgrade their existing 4G networks. In other words, higher costs.
At least for consumers and businesses, the good news is that these "standalone" 5G networks will offer more than speed boosts. They also deliver lower latency so wireless links are almost lag-free, enabling new uses such as autonomous cars or remote surgery.
However, for most telcos, this will not feel like the time for a gungho approach, unlike when they launched 3G and 4G to much fanfare.
Disrupted by nimbler players in the shape of virtual operators and cut off from their content revenues by over-the-top content providers like Netflix, they have lost the swagger they once had.
It is not that the network doesn't matter today – it's still the backbone that makes everything else work – but increasingly, there is an aversion to spending hundreds of millions upfront and waiting for years to claw that back.
Hopefully, that does not mean 5G will be on the slow burner in Singapore, as telcos here look to consolidate efforts and even go into new markets like banking.
What's clear, however, is that when 5G arrives in 2022 or earlier, the telecom market here would be quite different from now. No longer will four main telcos slug it out, each on their own networks, which are also utilised by smaller virtual operators.
Only two telcos will be in a position to say they own the hardware to the city's newest mobile network, after the Infocomm Media Development Authority awards the 5G licences in mid-2020. It's hard to predict what happens after that.