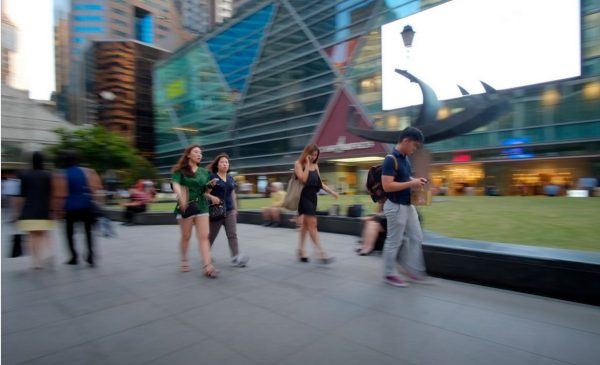 You can call it a marriage of convenience, or a bond made out of necessity, but however you describe it, the joint bid by Grab and Singtel today for a digital full banking licence in Singapore is one that makes sense for both parties.
The two companies said today that they would establish a consortium to be one of the first such banking entities in Singapore, following a major liberalisation in the sector this year.
This means the consortium, 60 per cent owned by Grab and 40 per cent by Singtel, will be able to offer deposits and lend money to both retail and non-retail customers. Yes, as direct competitors to incumbents such as DBS and Oversea-Chinese Banking Corporation.
Yet, the new entrant, if the government regulator eventually gives the green light, will not be so keen to go after the same turf that traditional players have staked out for years.
There are lots of greenfield opportunities that both Grab and Singtel can grab, sorry for the pun, because they are already dealing with huge customer bases and have some form of e-payment offerings.
While the traditional banks may know your net worth, these two challengers will have a lot of minute data, for example, where you frequently travel to or whom you always contact.
This treasure trove of information is key to them selling the right products to you. Instead of endless mailers from the banks telling you to sign up for another new credit card or insurance policy, the digital banks do not have legacy systems and operating processes to hamper them.
They already offer e-wallet services today, which enable users to buy stuff and transfer money easily on the mobile phone, an increasingly important device that is reducing the importance of old banking accounts.
In this arena, Grab the "everything" app and Singtel the telecom operator have the upper hand. Extending existing services to a full banking offering is something that is logical in the long term.
It's not too far fetched to have your telco offer to lend you money for a purchase, much like a bank would dangle low-interest loans for you to buy a watch, car or house. But the offer might come straight on your app or phone, so you get your instant gratification, for better or worse.
A digital bank also means that transactions are done mostly digitally, so you likely won't be visiting a bank branch. When was the last time you actually wanted to visit a bank branch, anyway? If you could, you'd rather do things digitally and avoid the queues.
The joint bid by Singtel and Grab also helps both parties. Facing a tough market in traditional telecom services in Singapore and abroad, Singtel is looking for a new revenue streams, while Grab would do well to leverage on Singtel's network infrastructure, which can be relied on to deliver digital services reliably.
Though the new players promise disruption and better deals for consumers, the idea of telcos becoming banks isn't new. Back in the 2000s, some of them already harboured ambitions to offer banking services on the mobile phone.
The technology was not quite ready back then. Plus, if you asked most regulators around the world then, many would have thought that banking was a sector that was safe from disruption.
The situation is different now, of course. Singapore's move to offer digital banking licenses is already behind regional rival Hong Kong's. The Special Administrative Region gave out eight digital-only "virtual banking" licences in March this year.
There is good reason for the Monetary Authority of Singapore to be careful, to be fair. It has told these new digital players to show they can make money, rather than simply grow like a tech startup while piling up the losses.
After all, a bank can't keep losing money, because folks who put money in their bank accounts are not investors but people who trust the bank to safekeep it.
This is also where Grab needs the stability of Singtel. No matter how big its ride-hailing or food delivery operations are in Southeast Asia, it is still losing money. It hasn't turned in a profit, quarter after quarter, like Singtel.
The last thing you want is for a digital bank to lose all of its customers' deposits. We've already seen that when tech startups up and go without notice – remember oBike – and it's probably a good thing that digital banks are regulated stringently from the start.
If the regulators do grant them a licence, it will be interesting to see what Grab and Singtel can come up with. That's not forgetting other prospective players in Singapore, such as Razer, which now offers an e-wallet. The new year looks set to bring disruption to the banking market.