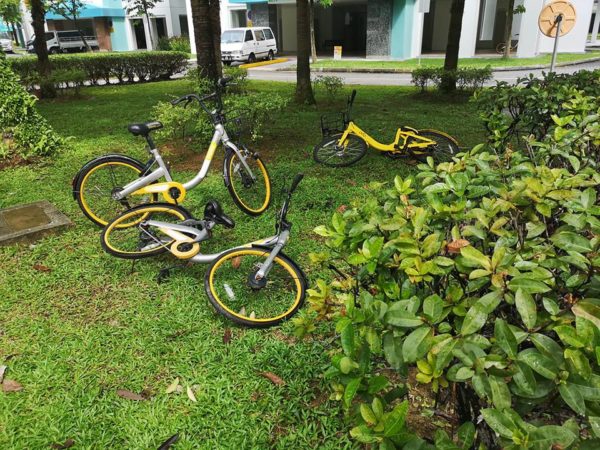 As oBike's Singapore users searched for answers about their deposits on Tuesday, many found out from news reports that the bike-sharing company had already shuttered its office here.
With nobody to turn to, they looked to the authorities to help them get back the money – S$49 for most users and S$19 for students – they had paid oBike before it abruptly announced its closure here.
The Land Transport Authority (LTA), as it turns out, also found out on the same day. Worse, it said it was still somehow going to "engage" oBike on its exit plans.
With whom will it engage, you wonder, looking at the pictures of the empty offices over at Commonwealth Lane. The oBike people have basically upped and left, leaving consumers no option to redeem the money they had placed with it in good faith.
Yet again, they are left with a raw deal as another startup that promised to disrupt the transport industry ended up leaving suddenly.
In March, after Uber said it was giving up on Singapore, consumers and drivers found themselves left with only one real alternative – Grab – to go to.
Since then, there have been fewer promotions and discounts, consumers have complained. With less competition, there is little incentive for a dominant player like Grab to offer these deals.
At least in that case, consumers did not have to lose any money. With oBike, it now seems quite unlikely that they will get their deposits back.
Speaking from China, where he is based, oBike co-founder Edward Chen, said the company was being liquidated. Well, so much for trusting a company always described as being homegrown in Singapore.
At stake here are several things. First, consumers' interest. They have basically been taken for a ride, pardon the pun. All that money they have placed – with 1 million users here, oBike could have collected as much as S$49 million – will be hard to recover.
Second, but more important, is the Singapore brand. Headquartered in Singapore but offering services in several other countries, oBike was not just another startup that failed.
It had leveraged the credibility and trustworthiness associated with the Republic. Yes, startups fail all the time but the way oBike left consumers high and dry will raise questions of startups from here.
Could the authorities have done more? With these platform companies that easily shift in and out of markets, regulators have a hard time regulating them like good, old telecom operators, for example.
Ironically, this time, it was the LTA's move to regulate the industry more tightly that led to oBike's departure. Citing difficulties in following these rules, which make it harder for users to dump their bikes indiscriminately, oBike decided to leave the market altogether.
Still, there is an inescapable sense that the regulators have fallen short again. Could they have seen what's coming by looking at what's happening overseas?
In China, it has became clear that the bike-sharing business model is not so much about bikes but the deposits that are collected, which can then be used as easy money to invest in the money markets. Once growing at breakneck speed, the bike-sharing bubble there has burst this year.
A similar lesson can be learnt from ride-hailing apps in China. When Uber left that market to its local rival in 2016, consumers immediately saw prices shoot up without the same competition.
Did the Singapore authorities prepare for these scenarios here? With Uber's departure here, the competition commission tried forcing the app to run on for a few more weeks, in a rather futile gesture.
Now, you wonder what LTA has in mind to get the bikes strewn all over Singapore off the grass patches and park connectors. Not at taxpayers' expense, you hope.
From here, this latest episode raises even more difficult questions. When startups fail, do consumers have to pay the price? In Singapore's quest to be a testbed for innovation, are people here becoming unwitting test subjects?