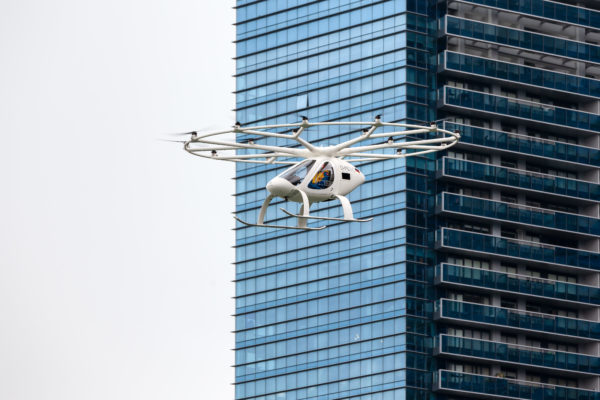 Grab has signed a deal with German air mobility startup Volocopter to see how feasible air taxis are in Southeast Asia, as the technology edges closer to reality elsewhere in the world.
With the agreement yesterday, the companies will look into the most suitable cities and routes to deploy air taxis in the region. They will also evaluate how air taxis may be used and explore the possibility of joint flight tests, Grab said yesterday in a statement.
Folks in Southeast Asia are familiar with Grab as a ride hailing company that has branched out into several other services, such as food delivery and potentially digital banking.
Volocopter, meanwhile, is known for its pilotless drones, which theoretically could one day bring passengers across crowded cities such as Singapore, Bangkok or Jakarta.
The German company had conducted a three-minute test flight along Singapore's Marina Bay waterfront back in October 2019. It showed off its 2X aircraft, a "multicopter" that ferries one passenger and which can land in small spaces, including a carpark.
Chief executive Florian Reuter said then that public flights trials would follow soon, pending approval by the authorities, The Straits Times reported.
Once the stuff of science fiction, air taxis that fly passengers across crowded cities are becoming more like science fact today, with many more trials and tie-ups to push the technology forward.
In January, Uber and Hyundai showed off concepts of a flying taxi prototype that they expect to debut in 2023. A human pilot will fly the aircraft until autonomous software is finalised for it, according to CNN.
For now, there are not many details on the Grab-Volocopter tie-up, which appears to be in its exploratory stage.
It's not surprising, however, to see the most prominent ride-hailing company in the region being involved in what could be a deeply disruptive technology for urban cities in the years ahead.
Grab said yesterday that its data on traffic patterns and customer insights would be used for an air mobility service in the region.