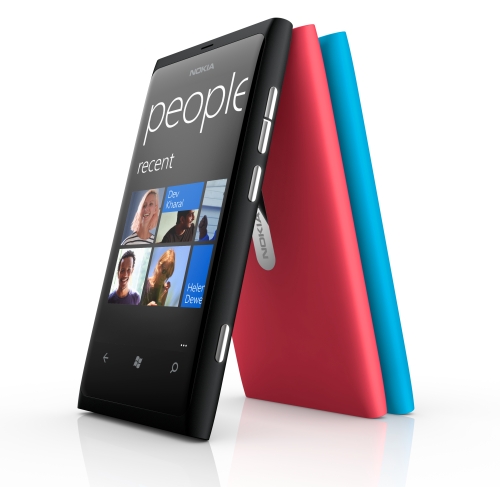 It's hard to fault Nokia for the good work that has been put into the Lumia 800.
With a unibody polycarbonate shell, an AMOLED display and an eight-megapixel Carl-Zeiss lens, Nokia's comeback phone is up against the top smartphones in the market, such as the iPhone 4S and Samsung Galaxy SII.
I've been using the Lumia 800 for over a week now and the one thing that impresses me most is its curved Gorilla glass display that's nearly flushed with the edges. Its 3.7-inch screen, which displays images with vibrant colors and deep blacks, is comparable to the iPhone's Retina display.
The Lumia 800's auto-focus camera takes good-looking pictures, though I had trouble focusing on nearby subjects. While you can snap photos quickly, there were times when the camera clicked before an object was in focus.
The camera also sports 3x digital zoom for zooming in on objects from a distance, but your photos could turn out to be a tad grainier than usual.
Folks who take self-portraits may be disappointed as the Lumia 800 does not sport a front-facing camera. You'll have to wait for the Lumia 900 if a front-facing camera is top on your smartphone feature list.
The Lumia 800's minimalist design means the only physical buttons you'll see are volume keys, power button and the camera shutter, which are all aligned along the left edge of the phone.
Like most smartphones, the Lumia 800 has enough power to last a day of messaging and web browsing. But when the battery is completely drained, it could take over an hour for the phone to be turned on again while plugged into the power socket. This issue has since been addressed in a recent software update.
While Nokia's flagship device is spiffy, this isn't enough to win over iPhone and Android users. Much has been said about the qualities of the Lumia 800's Windows Phone 7.5 "Mango" operating system, but a rich app ecosystem is all it takes to dent the market share of rival platforms.
For now, there are still a number of apps (DBS mBanking, Pixlr-o-matic, Skype and TweetDeck, to name a few) I have on my iPhone and Android devices that aren't available for the Window Phone platform yet.
That said, both Microsoft and Nokia are expected to rally developers to produce apps for the Windows Phone platform and this should also encourage other smartphone makers such as LG, Samsung and HTC to offer more Windows Phone devices.
According to estimates by iSuppli, Windows Phone devices are expected to account for 9 percent of total smartphone shipments this year, up from just 1.9 percent in 2011.