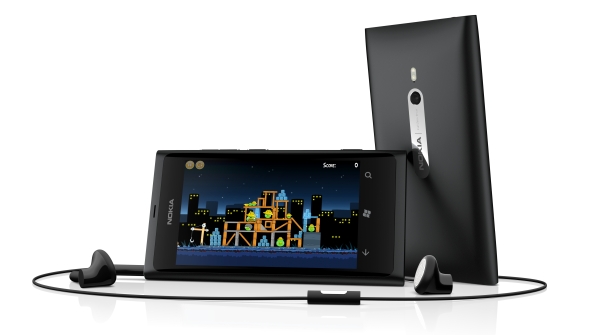 After several years of playing catch-up to rivals, Nokia today came up with its first Windows Phone, a long-awaited gizmo that finally looks the part and which could resurrect the Finnish giant's ailing smartphone business.
The Lumia 800, unveiled at its annual Nokia World conference, comes with all the bells and whistles expected today – a 3.7-inch AMOLED screen, 1.4GHz processor and an 8-meg Carl-Zeiss lens, for starters.
Notably, there's no SD card slot, so the 16GB onboard will have to do for your apps, movies, songs and pictures. The good news for music lovers is that it supports FLAC natively, so you can play back your high-res music tracks without having to convert them to MP3s.
As expected, the Lumia 800 looks identical to the N9 first shown at CommunicAsia in June. The main difference is that it runs Microsoft's much-heralded Windows Phone 7.5 "Mango" operating system, which has more apps available than the N9's Meego OS. The design has wowed critics with a unique curved glass screen, which seems to float like a "pillow" on the main frame.
So the Lumia 800 has a massively improved OS, which now contends well with Android and iPhone devices, and it is backed by a good-looking design. Is this the return that Nokia has hinted at all these months, after hitting rock bottom earlier this year?
First off, the Lumia 800 looks like a sure hit for Nokia fans who have held back from buying an iPhone or an Android phone. The Finnish phone maker, still number one despite losing ground in the fast-moving smartphone stakes, has its design mojo well showcased in the N9 and now the Lumia 800.
If there's one thing Nokia didn't need, it would be another cookie cutter phone that is often associated with Windows Phone devices. The Lumia 800, in contrast, has a rather unusual-looking curved screen that will catch the eye of users who have not considered Nokia for a while – or indeed Windows Phone in the past.
With the souped up Windows 7.5, the Lumia 800 looks the part. Priced at 420 euros (S$706), it will also win over those who don't want to pay more than S$900 for the iPhone 4S  or Samsung Galaxy S II.
Is the Lumia 800 the comeback device to rejuvenate Nokia? It sure looks and feels like one. In terms of design, features and connectivity, it gets Nokia back into contention, after years of stagnation with Symbian. And to the company's credit, it has done so in time for the holiday season.
Among the other handful of devices shown off by Nokia today, there's also the low-price Lumia 710 (below), which costs 270 euros. More like a regular Windows Phone device, it appears to be aimed as a competitor to low-cost Android device.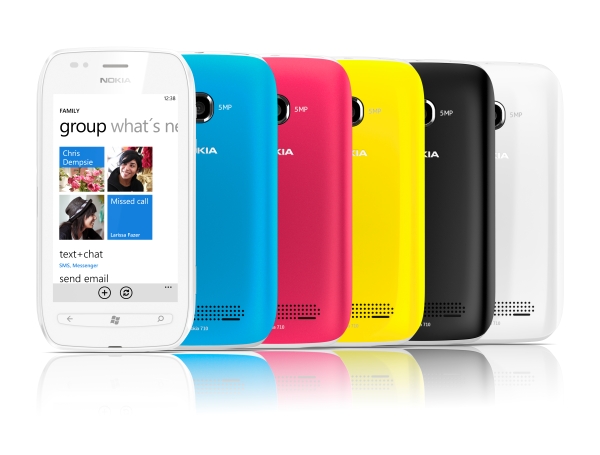 But the big question is whether the Lumia 800 will help Nokia reclaim share in smartphones market, which is led by both Samsung and Apple right now. Apparently, Gartner and IDC think so, predicting that the Windows Phone OS will grab some 20 per cent of the market by 2015, up from just 4.3 per cent now, and replace Apple's iOS as the number two OS behind Android.
What Nokia has going for it is very strong brand presence in developing markets, such as India, where the smartphone boom in the coming years is going to be massive. In some markets, the Finnish firm does enjoy a goodwill that even Apple may be envious of.
Having said that, the Lumia 800 will have to be an instant hit for it to gain traction. Nokia's CEO Stephen Elop, a former Microsoft man, has bet big on Windows Phone, avoiding the manufacture of phones on Android because he said the market needed a third player after Android and iOS. That means Nokia has little to fall back on in the coming months.
If the Lumia 800 doesn't do well enough, it won't encourage more developers to come up with apps for the Windows Phone platform, and by the time the next flagship phone appears, it'd be doubly hard to convince people to make apps for it, and in turn, users to buy the phones.
For now, the Lumia 800 looks the part. It appears to have hit on an attractive formula, maybe just about enough to make people think twice about buying the phones they thought they had decided to buy this holiday season.
Look it up, along with the Lumia 710, when they ship in Asia in by the end of 2011, first in Hong Kong, India, Russia, Singapore and Taiwan, then in other markets in early 2012.