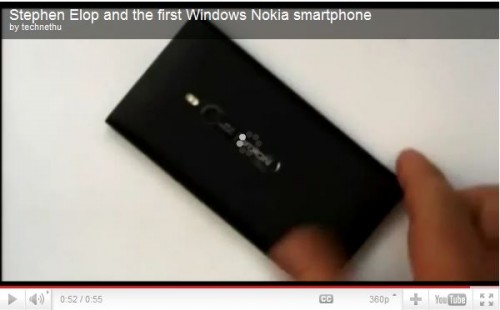 Nokia's first Windows Phone device using the "Mango" version of the Microsoft software looks almost identical to the recently-launched N9, according to a seemingly leaked video of the Finnish phone maker's CEO demonstrating the much-awaited gizmo to staff.
Codenamed Sea Ray, the new device is like a twin of the N9 that runs on Meego, which Stephen Elop showed off at Singapore on Tuesday, except that there are the three Windows Phone buttons at the bottom of the screen.
The video, which seems to be shot a day later, actually had Elop telling folks in the crowd to turn off recording devices so that the "super confidential" gizmo would not be leaked to any blogs.
In the end, we can't be sure if it was deliberately leaked on the Hungarian website Technet.hu, but the details are interesting.
The browser looks like it is well capable of showing everything that a PC does, and the Xbox integration is much deeper, with your online character looking exactly as you'd have it on your game console at home.
In the demo, Nokia also showed the multi-tasking that is expected to be a main upgrade over the existing Windows phone OS. The company also appears to be set on loading Nokia maps and other re-installed apps that let users transfer their contacts from an old Nokia device to the new Windows device.
Check out the video here yourself: