The iPhone 4S might have disappointed many fans, and validated others of their move to Android, but it's still a highly awaited smartphone to many people.
As the local launch dates draws near, both SingTel and M1 have already unveiled their plans and pricing for the new iPhone.
StarHub, on the other hand, is keeping mum over its plans for the device, and already some fans are speculating whether the green telco has failed to secure an agreement with Apple in time for the launch.
But let's work with the numbers we already have. Based on the cheapest plan from both SingTel and M1, the new iPhone will cost you anywhere from $498 to $798.
M1 offers a lower monthly subscription and lower iPhone prices (with the exception of the 16GB version), but bundles 50 less SMS than SingTel.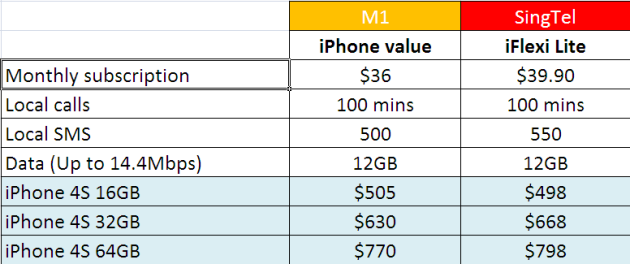 SingTel might offer you 50 more SMS, but the prices are generally higher. You'll have to pay $39.90 every month, $32 more than M1 for the 32GB iPhone 4S, and $28 more for the 64GB version.
If you don't mind paying up to $205 every month, then you can get the 16GB and 32GB iPhone 4S for free from both telcos, with the 64GB still commanding at least $108.
M1 seems to be the clear winner here, with unlimited phone calls and unlimited data bundles for $198. SingTel, on the other hand, asks for $205 per month but restricts you to 2,000 minutes of calls and 30GB of data.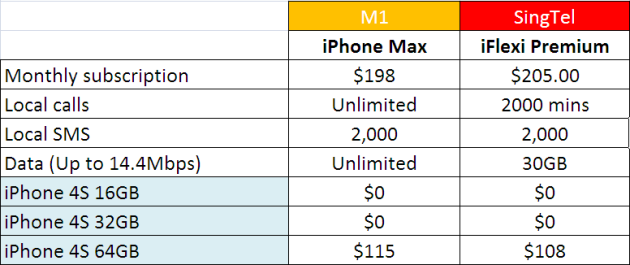 Now that the iPhone 4S will be hitting the streets, what's going to happen to the iPhone 4?
M1 has not released renewed pricing for the iPhone 4 8GB, but it will be available at SingTel from $400 with the cheapest plan (iFlexi Lite at $39.90 per month), $120 for the next cheapest (iFlexi Value at $59.90 per month) and free for the more expensive plans.
If you prefer to buy the iPhone 4S without a telco plan, the prices will be significantly higher. But that might be the only option for those whose contracts with no end in sight. Retail pricing is available at the Apple online store.
Here are the full listings for SingTel:
And the full listings for M1:

In general, these prices are comparatively more expensive than the iPhone 4 when it launched, and could prove to be a major deterrent to consumers, especially those sitting on the fence about jumping to other platforms.
Update: StarHub has also revealed its pricing for the iPhone 4S.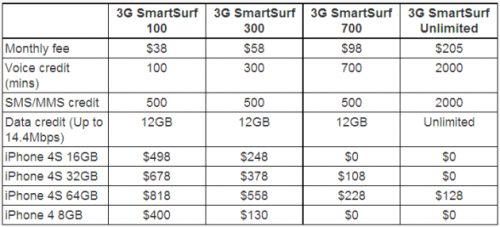 (This story first appeared on Techtalk, our technology content partners at Yahoo! News Singapore).