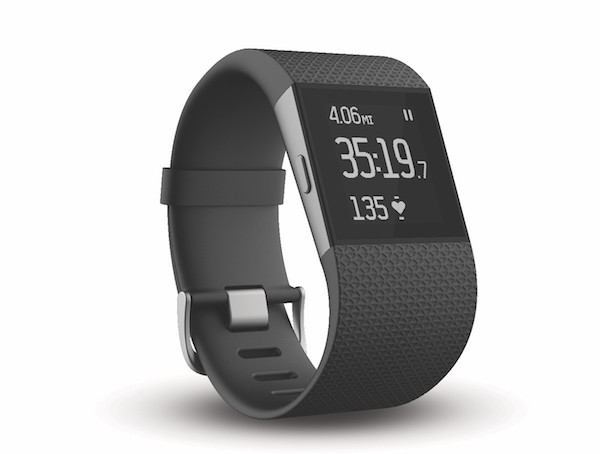 Hailed as a "super watch" that marries fitness tracking and some smartwatch capabilities into a single device, the Fitbit Surge is the most powerful Fitbit to date.
It packs in a heart rate monitor that tracks your heart beat and sleep patterns, a pedometer for step-tracking, and an altimeter that monitors the number of floors you've climbed in a day.
Regular runners will also welcome the Surge's built-in GPS, making it possible to go for a run without bringing a smartphone along.
But does the most expensive Fitbit to date live up to its super watch moniker? We put it through its paces to find out more.
Design and screen
You'd be disappointed if you were hoping that the Surge would look more like a smartwatch than a fitness tracker.
If anything, the Surge is more like an oversized Fitbit Charge HR with a larger screen. Given its bulky looks, it's certainly not something you'd wear when you're not exercising. Not when you're in a business shirt for sure.
The Surge is available in three strap sizes: small, large and extra large. Make sure you get the right size for a snug fit, or the heart-rate monitor won't provide accurate readings. Unfortunately, the straps are not replaceable.
There are physical buttons at the sides for selecting menu options, such as pausing a run. While you can also do so by tapping small icons at the corners of the 1.25-inch touch screen, it's really hard to do it accurately when you're huffing and puffing.
Notwithstanding, the backlit screen is very readable under the sun, and is pretty responsive to touch gestures. Swiping across the clock display brings up a range of stats, like the number of steps you've taken, your average heart beat and the number of calories you've burned.
At the back of the Surge is a heart rate monitor that uses two flashing green lights to illuminate your capillaries so the sensor in the middle can measure how fast your blood is being pumped through.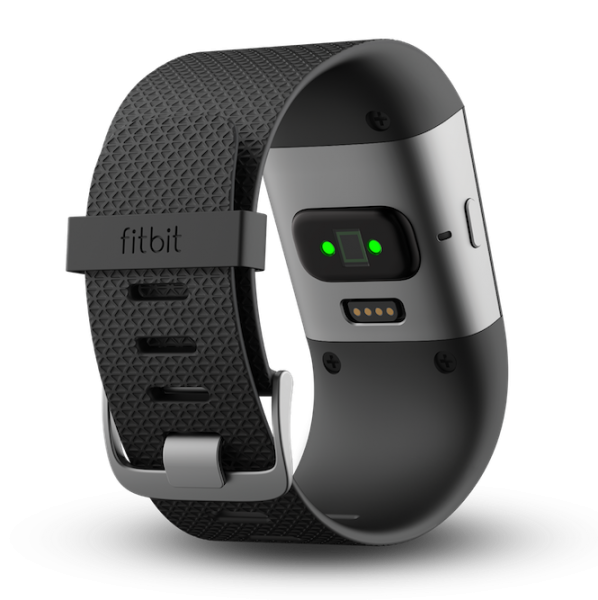 Below the heart rate monitor lies a power connector for charging the device, whose battery can last for about a week on a single charge. It's puzzling that Fitbit has opted for a proprietary connector, rather than the standard micro USB port used by many mobile devices.
Performance
As a runner's watch, the Surge works as promised on its own without a smartphone. Locking onto the GPS system took just two to three seconds, after which I was off for my run.
At 1km intervals, the device would vibrate and display my pace and distance. During the run, swiping across the screen would bring up information like heart rate, calories burned, as well as the current and running time.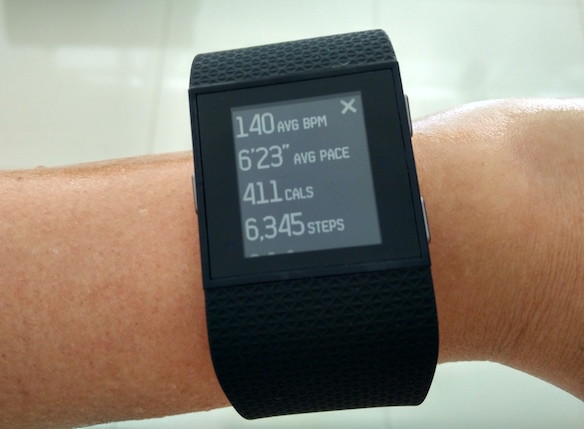 After a run, simply sync the Surge with a smartphone and your workout data would be automatically uploaded to your Fitbit dashboard, which offers more data points such as the time spent in three heart rate zones during the run: peak, cardio and fat burn.
I've done four to five runs with the Surge so far, and the distance and heart rate readings have been consistent with what I've been getting with my Jabra Sport fitness app and Jabra Pulse headset.
It can also collect workout data from different types of sports and exercises including tennis, golf, hiking, yoga and martial arts, among others. These can be added to the Surge via the Fitbit app.
The Surge is one of the better sleep trackers out there, with its ability to detect that you're asleep based on your movement.
When you haven't moved in over an hour, the device's algorithms assume that sleep has begun, which is confirmed by the length of time your movements are indicative of sleep behaviour like rolling over. Morning movement tells the tracker that you're awake.
The Surge seemed to have nailed the amount of time I had been asleep, though it's hard to tell how accurate the data is for the length of time – and the number of times – I had been in "restless" sleep, such as turning over in bed.
As a smartwatch, the Surge is a rudimentary one at best. Sure, you can choose from a handful of watch faces, get notifications for calls and messages, and control music playback, but don't count on it to replace an existing smartwatch.
For one, message notifications only work with one messaging system at a time (and even then, it doesn't work all the time). So, if you choose to receive WhatsApp notifications, you can't get SMS notifications.
To be sure, the Surge is not for hardcore runners and athletes who are better served by running watches from the likes of Garmin and Polar.
Instead, it fills a gap in the market for devices for average folks who run (and want a GPS-enabled tracker), hike or participate in sports regularly to keep fit.
For these users, a device like the Fitbit Surge needs to look good – perhaps even discreet enough – to be worn all day as a fitness tracker. I'd say the Surge isn't there yet.