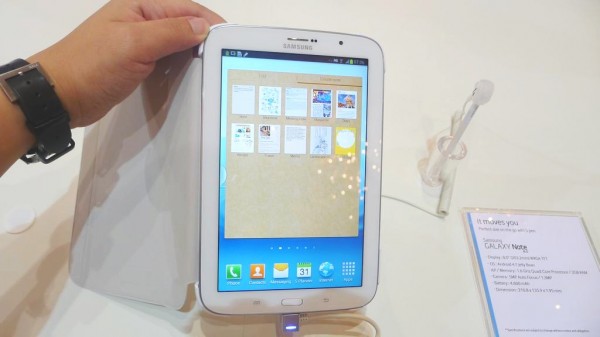 If you thought that the Samsung Galaxy Note 8.0 unveiled this week looks a lot like a bigger version of the Galaxy Note II phone, you are spot on. I used to laugh at the iPad as a bigger iPhone – now this is a bigger Note, without a doubt.
Down to the colour and the shape of the screen and buttons, the Note 8.0 aims to build on its smaller sibling's popularity. Now, I'll be honest and say I was underwhelmed somewhat by it, but I'm quite sure I'm not the target market.
Who's this cute little tablet for? I'm thinking school children, possibly women who already own a Samsung phone.
This 8-inch tablet – yes, that's what I'm calling it – doesn't knock you off your feet with its design or hardware, but why does the Korean company need to change anything when it has sold loads of Galaxy phones on the way to being the top cellphone maker?
From my quick hands-on test here at the Samsung Forum 2013 show in Jakarta, I can say the Note 8.0 does do well in a few areas. First off, the size is right. Apple knows it now, as do Google and Asus.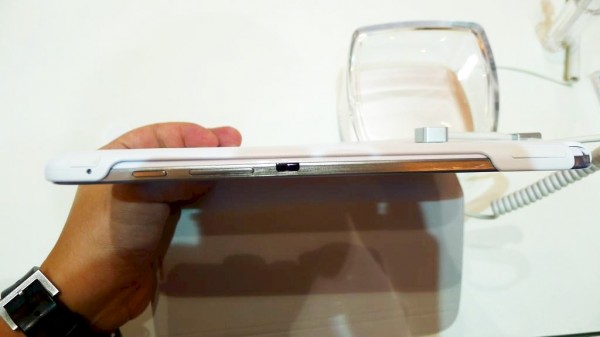 The 338-gram Galaxy Note 8.0 is just nice to hold in one hand for reading books or watching a video. What I also like is the S-Pen, a stylus that lets you scrawl on the notepad-sized tablet.
Whether you are drawing with one of Samsung's included apps such as a recipe builder, the S-Pen sets the Galaxy Note 8.0 apart from Samsung's rivals. Unlike with a 10-inch tablet, drawing or scribbling on the 8-inch tablet feels… right.
Of course, the tablet that started it all was the original 7-inch Samsung Galaxy Tab. The new Note 8.0 is a much improved model.
Not only is the screen bigger, it's also sharper, with a resolution of 1,280 x 800. Compared to its current rivals, such as the Google/Asus Nexus 7 or Apple iPad mini, it doesn't lose out on detail.
And certainly, compared to the much bigger Galaxy Note 10.1, which has the same number of pixels on a larger 10.1-inch screen, the Galaxy Note 8.0 provides much-desired sharpness.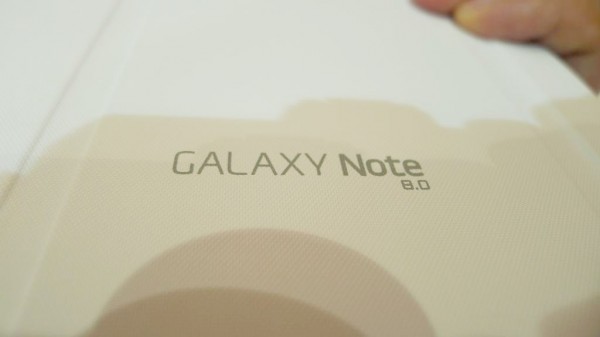 Samsung has also taken some ideas from rivals. The demo units here come with a thin smart cover, which powers the screen on or off when you flip it open or close. No indications yet if this is going to be part of the device, or an add-on, but it does match the tablet well.
What I also like is the relatively fast performance, provided by the 1.6GHz quad-core processor and 2GB RAM onboard.
There were one or two moments, when I was switching between apps during a brief try-out, that betrayed a very slight lag. Otherwise, the interface was smooth. As usual, I'd recommend removing some of the widgets that Samsung likes to add to the home screen.
Whether you like Samsung's Touchwiz interface really depends on your personal preference. I've always found it to be very cartoon-like, though other users may find it cute or easy on the eye.
What I am a little disappointed in the Note 8.0 is that it's rather unambitious. It will sell for sure, while riding on the company's current wave of success, but I wonder if this is a product that will beat all comers like Samsung's Galaxy Note II and Galaxy S III have flattened competitors in the smartphone arena.
I'll be honest, I'm an owner of Samsung's last great small tablet – the Galaxy Tab 7.7 – which had one of the brightest and most vibrant screens around. That one had a Super AMOLED screen, while the Galaxy Note 8.0 uses only a regular LCD.
It's not that it is a poor display. I tried playing one of the videos on the demo tablet and noted the sharpness on the screen.
Yet, I wish Samsung could have come up with a "wow" product, like how its Galaxy phones have really captured the imagination. I wish the 8-inch screen would boast a Super AMOLED display, like the Galaxy Tab 7.7.
Instead, I feel the Korean electronics firm may have decided to do just enough to edge out Apple, at least in terms of screen sharpness and size. Apple's iPad mini packs in 163 pixels per inch on its 7.9-inch screen, while Samsung's new tablet has 189 pixels per inch on the 8-inch display.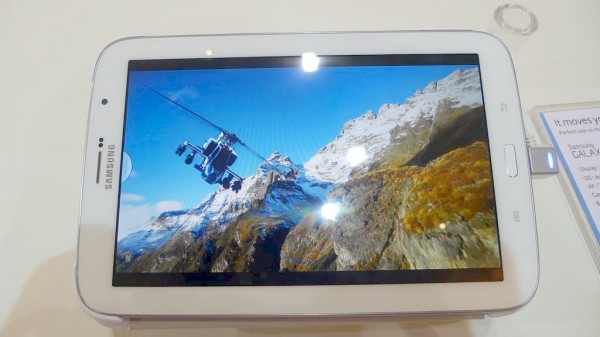 Should you consider the Galaxy Note 8.0 for a tablet?
I think there are other rivals worth considering, such as the Nexus 7 that has done so well for Asus. Apple's iPad mini, despite the poorer screen, feels more solid in the hand, thanks to its metallic finish.
Yet, the Galaxy Note 8.0 will appeal to folks who have bought into the Samsung look and feel. And that's a growing group of people. In the past, the same plastic design would have been lambasted as cheap, but today, the Korean firm has enough hits under its Galaxy banner to be confident.
Okay, the Galaxy Note 8.0 also has a microSD card slot, important for storing your favourite movies for a long flight. Under the hood too is a 4,600mAh battery, which should have a decent amount of juice to keep it going on the road.
But the new tablet will do well simply because the "small tablet" is becoming attractive to users. Along with Samsung marketing, the Galaxy Note 8.0 should attract a fairly good response, if the price is right.
No details on that all-important factor yet, though folks in Singapore looking to buy one should wait for the next three months for it to reach the stores.
Price it competitively against the Nexus 7 and Samsung could be looking at more Galaxy tablets in users' hands this year.
Update: The Samsung folks from Singapore have confirmed that the country's Galaxy Note 8.0 tablets will come with either Wi-Fi or LTE (Long Term Evolution).