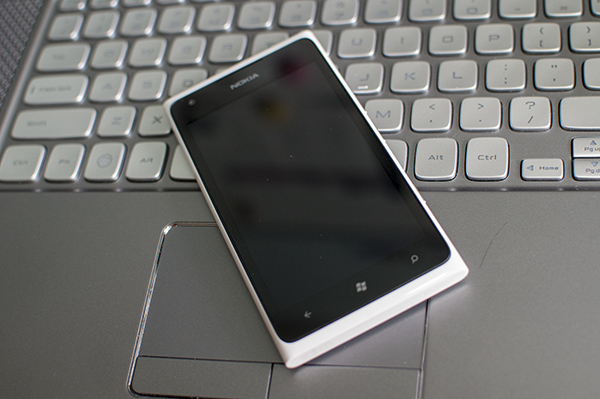 When Nokia unveiled the Lumia 800, it felt like a stop-gap device rushed to the market to stop the company from haemorrhaging more users. Many features expected of the device were missing, such as a front-facing camera.
Many of these features are now included with the Lumia 900, but it's still lacking in some departments when compared to iOS and the various Android powerhouses. Worse, Microsoft has just revealed that all existing Windows Phone handsets, including this one, won't be receiving the Windows Phone 8 update.
How does it stack up now that companies like Samsung and HTC are leaping ahead with their new flagships?
Design and hardware
The Lumia 900 goes down the same design path as the Lumia 800: a tough piece of Gorilla glass framed by a unibody injection-molded polycarbonate which promises great durability. The rounded sides help to fit the phone snugly in your hand. Topped off by a nice heft, the Lumia 900 is a splendidly-designed phone all around.
The 4.3-inch display sticks with the 800 x 480 limitation currently imposed by the Windows Phone OS, but is suitably crisp with great colours thanks to Nokia's ClearBlack AMOLED tech. The OS' unique live tiles and fluid animations really pop on this display.
However, the phone is quite thick, and this actually contributes quite noticeably to shortening the reach of your thumb, so that it's a little bit of a struggle to reach to the furthest corners of the display on one hand. On a thinner phone with the same screen size and with less bezel, such as the Samsung Galaxy S II, my hands had no problem at all.
Placed next to the Lumia 800, the bulk of the Lumia 900 is even more evident. The older phone feels perfect in the hand, and the sides are tapered to make usage more comfortable. The new Lumia might be a bit too big and heavy for some users' liking.
The Lumia 800's beautiful curved screen is also missing from the Lumia 900, which opted for a conventional flat display instead. Although a flat display possesses more strength than a curved one, this definitely causes the phone to shed some of its unique DNA.
In all honesty, current Lumia 800 users who have no hankering for the larger screen and front-facing camera aren't missing out. The innards of the Lumia 900 is almost exactly the same as the Lumia 800: a 1.4 GHz single-core processor, 512MB of RAM, 16GB of storage, and the 8-megapixel camera with Carl Zeiss lens.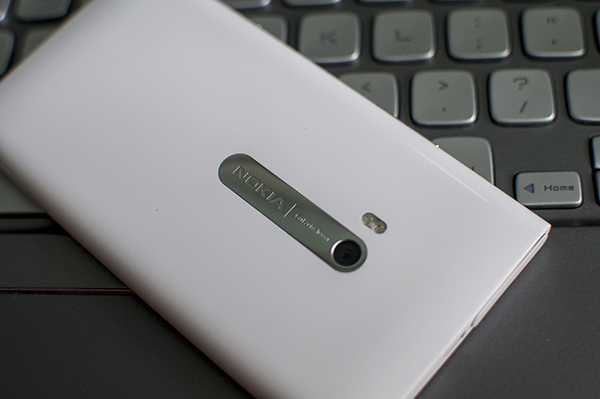 Software
I began this review before Microsoft announced the next iteration of their operating system, and there was nothing much to write about software then that haven't already been written. But now we have more details about Windows Phone 8, and it ain't pretty.
First, the good news: the Windows Phone marketplace now has more than 100,000 apps, a significant milestone for the platform. Nokia will also continue bringing great and exclusive apps to the platform, such as Zynga's incredibly popular game Draw Something.
The bad news: all existing Windows Phone handsets will not get the Windows Phone 8 upgrade. The only thing they'll get is a bump up to Windows Phone 7.8, which as far as we currently know brings nothing but the new Start Screen with resizable tiles.
Sure, a lot of the new features require new hardware to work, including goodies such as high-res screens and dual-core chips, and there's no need to bog down current handsets with the code for these new features.
Pus, the shared core with Windows 8 probably means that an update will have to wipe our phones and re-install the new OS from scratch, a tricky process to deliver over the Net.
But there are also many software improvements that aren't dependent on new hardware, such as Internet Explorer 10 and SkyDrive integration, which Microsoft really has no reason not to include.
Unless Microsoft releases more information to the contrary, buying a new Lumia 900 now means that you'll be buying a product that's going to be replaced soon by more powerful options.
As much as Nokia would like to convince you that it's committed to bringing more updates and exclusive apps, current owners will be barred from future apps developed specifically for the new kernel.
Round up
There's no doubt that the Lumia 900 is currently the top choice (in Singapore, at least) if you're looking to jump to the Windows Phone camp. But that is not going to last for very long.
There will be lots more exciting hardware for Windows Phone 8 in a couple of months. Notable new partners announced at the Windows Phone Summit include the increasingly competitive Chinese companies Huawei and ZTE.
If Microsoft had committed to a more feature-packed update for Windows Phone 7, perhaps the Lumia 900 can still be a decent recommendation. But unless you really want a Windows Phone at the moment, it's best to wait a little while longer.