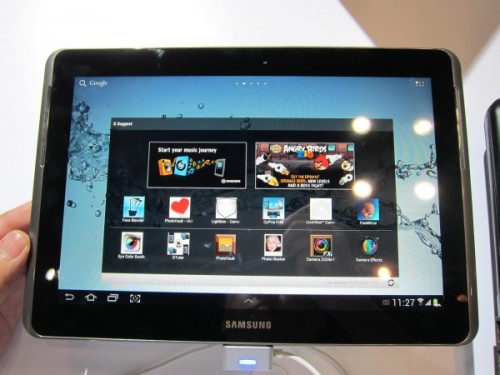 At this time last year, Samsung was agonising over how slim its Galaxy Tab 10.1 was going to be to challenge Apple's iPad 2.
Just like Apple this time, its updated Galaxy Tab 2 tablets, unveiled recently at the Mobile World Congress show in Barcelona, seem more poised and you could say, possibly more confident of the response from potential buyers.
Besides having Google's Android 4.0 or Ice Cream Sandwich operating system out of the box, no big changes exist in the two versions of the Galaxy Tab 2, either in their 7-inch or 10.1-inch versions.
Cosmetically, the Galaxy Tab 2 takes after the Galaxy Tab 7.0 and 7.7 launched early this year in Singapore. The faux metallic surface feels good to touch and gives it a sort of premium feel that could take it a notch over rivals.
From what I can see at a Samsung show-and-tell for Asian media in Bangkok today, the interface on Ice Cream Sandwich is very smooth. The screen on both are also very sharp and offers excellent contrast that you've come to expect from Samsung displays. A treat to watch videos and movies on the plane with, for sure.
The disappointment is that neither one of them sports the Super AMOLED Plus display only available on the older Galaxy Tab 7.7. The other thing you might have expected from Samsung is perhaps a processor upgrade.
Both the Galaxy Tab 2 7.0 and 10.1 come with a dual-core processor running at 1GHz, which still runs smoothly during my tests today, but increasingly, you might see people comparing them less favourably to the quad-core Tegra 3 CPUs now used on the Asus Transformer Prime, for example.
Still, the two Galaxy Tab 2s, out in Singapore in Q2 2012 (no price available yet), are strong contenders in the Android market. What Samsung should have done, perhaps, is not have so many products that are so similar, which could confuse users looking for a new tablet.
If you think about it, Samsung still has a Galaxy Note 10.1 to come. Compared to the Galaxy Tab 2, the drawing abilities on the Note could give it an edge to compete more strongly with Apple's new iPad.