That's what a new application, now pre-installed on the recently-released Sony Ericsson C510 candy-bar phone, promises.
Shown to a group of media here on Wednesday, it's offers "zero-click" access to your Facebook pals' status updates because it shows up on the main screen without you having to go into any menu. It's Sony Ericsson's latest attempt to hook up its users to the social media world easily.
What you get is a scrollable list of your pal's status updates on-screen – and you can click on their faces to interact more. It's a bit like the live RSS updates on the main phone screen that Sony Ericsson currently offers on some of its phones, which to me, is an excellent tool.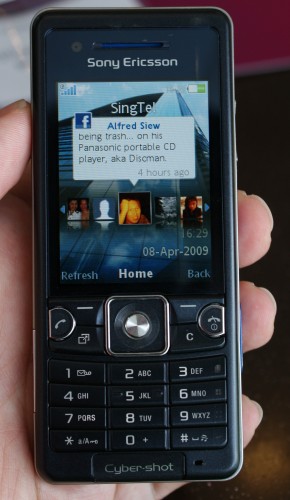 Better yet, the integration with Facebook extends to the C510's photo features as well. You can snap a picture of a pretty tart (the tea-time snack) and upload it by simply selecting to "send it" to Facebook. After you've logged in once, the tightly-integrated interface takes care of things automatically.
You'd wish Sony Ericsson (SE), and indeed other phone makers, will take the cue now to push more easier-to-use services on their devices. For now, it's only "testing water" with the C510, the only model to support this Facebook application.
It is starting with the C510 because of its Cybershot photo features, which the phone maker believes will attract users who take pictures of their afternoon tea and tarts and upload them onto their Facebook pages for their 500 friends to see.
Okay, I jest. But it's a good move by SE and indeed other phone makers of late to tightly integrate with not just e-mail but social networking services like Facebook. Over the past couple of years, we've had better mobile access to Internet services, starting with e-mail offerings like Yahoo and Google to multimedia services like YouTube and iTunes, and SE's application is a continuation of the trend as the competition heats up.
Just imagine, to ensure it keeps its lead, Nokia has been bundling, first, maps, then music and now push e-mail on its phones, so you're buying not just a phone, but one that opens up to a world of fun and useful applications.
Which should tell you how backward we – that is, the rest of the world outside Japan – have been. Before the first overhyped iPhones turned up in Tokyo, people there already had e-mail on their phones for years (mobile messages have always been sent over e-mail, instead of SMS, which really started as an "European", GSM thing).
As the mobile and Internet worlds converge, it's good to see Google, Yahoo and Apple take the lead in pushing more services onto mobiles. This is after seeing how the Nokia-led telecom world outside Japan had failed to make mobile Internet work at the turn of the century – just think back at those bad, old days, when the entire GSM world was engulfed in self-doubt after those horrible first-gen 3G phones.
In contrast, the Japanese have had tightly-integrated services like eBay, karaoke score updates, mobile payment at convenience stores and other knick-knack applications for years, for example, on NTT DoCoMo's i-mode platform. The rest of the world is just catching up, in many ways.