At yesterday's Lotus Singapore 2009 — part of a series of regional roadshows that IBM Lotus is holding in Asia Pacific — the key theme emphasized throughout the conference was on collaboration.
I was expecting more updates on IBM Lotus' cloud computing platform — LotusLive — which was launched earlier this year in January, but the IBM folks didn't have much to say on this. I wrote about this when it was first unveiled.
There's little to add to what I haven't said already, except that LotusLive is one of many such platforms in the market all looking to ride the next big tech wave. All the big software giants — e.g. Microsoft Azure and Google App Engine — are looking at the social collaboration/cloud computing space.
Who will win out? It's anybody's guess, but no one would discount behemoth Big Blue with their clout.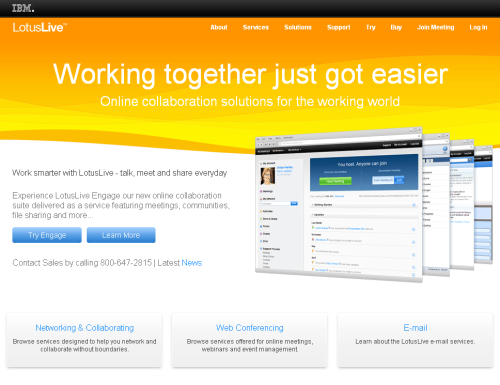 I recently just checked the LotusLive site. IBM just added their Engage service a week or two back, a shared file spaces and contacts service, on top of the web conferencing and email services they already had on LotusLive in January. SaaS is supposed to bring down the price of operating software, but with many of the services at LotusLive not having readily available and transparent pricing yet, it's hard to see this benefit till this is fixed.
LotusLive aside, Lotus 2009 Singapore was more of a general update and a chance for IBM to talk about their customer references.
Singapore Polytechnic (SP) was one of the more interesting case studies highlighted at the press/blogger segment of the event. SP's CIO Chang Boon Hai did a presentation on their student portal, which was built using WebSphere and Quickr portlets.
With information scattered over a stack of disparate systems — from email (Windows Live) to student administration (PeopleSoft) to corporate websites (BEA) — Boon Hai felt that students could get a better "end user experience" if they had a one-stop portal. This portal would "push" relevant information to students (e.g. update them via sms) rather than waiting for students to "pull" the information themselves.
The point was to get students to feel more connected to their alma mater, and the portal site is designed around services that students might need, he said. For example, freshmen often need information like campus directions and course criteria, whilst the graduating class would need information on job prospects, potential university placement and/or NAPFA physical fitness test (for young Singaporean men about to enter the army).