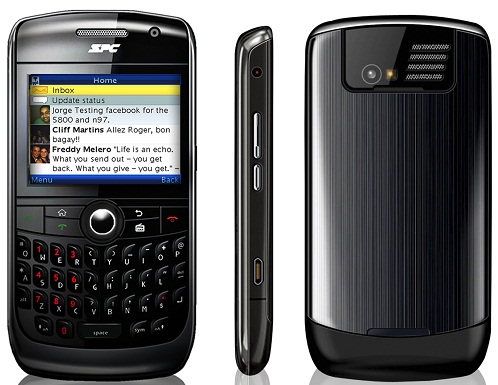 Often we tech journalists play with high-end mobile phones for developed markets like the US, Japan or Singapore, and sometimes we forget that there are many, many phones designed for emerging markets.
The Boss2000, a dual GSM/EDGE phone by Indonesian mobile phone maker SPC Mobile, is one such phone designed specifically for South East Asian markets. SPC just got into the mobile game recently a few months back, and prior to this was an Indonesian monitor manufacturer that was better known in Indonesia than anywhere else.
Launched last week at Communic Asia 2010, the Boss2000 has a built-in analog TV tuner that allows you to catch any free-to-air TV shows (anything running PAL or NTSC). It has a 0.3 megapixel front-facing camera for self-portraits, and a typical 1.3 megapixel camera on the flip side for other photos.
Every function of this phone is designed with emerging markets in mind, making it a very different animal than the higher-end sleek 3G phones that we usually see.
Why dual SIM cards? Because telcos in emerging markets are very competitive, and to entice customers to stick to them, they price calls from the same network very cheaply, sometimes for free.
For price-savvy folks, it's cheaper to own subscription plans/SIM cards to different telcos. If friend A is on network A you use a SIM card from telco A. Call a friend on network B by using your SIM card from telco B.
The analog TV function on the phone can serve as a TV. The quality of the TV program streaming would not be up-to-scatch for us city dwellers — we're too used to our 42-inch Sony Bravia or Samsung LCD/Plasma TV screens streamed over cable — but it is perfect for small towns in say Indonesia or Vietnam, where a consumer can choose to buy the phone and replace his TV.
And the front-end camera for self-portraits? Well, social media is taking off like a storm in emerging countries as well.
We might be familiar with social platforms like Facebook and Twitter, but there are also lots of alternative platforms like Mig33, a mobile IM and SMS platform with over 40 million users. SPC Mobile did their homework and they believe that self-portraits are extremely useful in a social media setting (for personalization, for photo tagging, etc.) for the audience that they are targeting.
Said Raymond Tedjokusumo, general manager of SPC Mobile in an interview with Techgoondu: "There are 16 million Facebook users in Indonesia. 14 million are between the ages of 18 to 27, and we want to capture this market!"
The Boss2000 tied up with US mobile solutions player Critical Path to come up with a suite of social networking applications on the phone that will allow users to connect to various social media platforms out there, like Mig33, KasKus (a huge Indonesian community platform), besides the usual Facebook and twitter.
Retailing at a price point of around US$70 to US$80, the Boss2000 will look at emerging markets like Indonesia, Thailand and Vietnam by the end of this year.
Besides the Boss2000, there were a ton of interesting mobile phones at the Communic Asia 2010 show, as Alf has written a story about. I saw at least two iPad look-alikes running on the Android platform, one by China behemoth ZTE and the other by Spice Mobile/CSL, a Malaysian phone manufacturer.