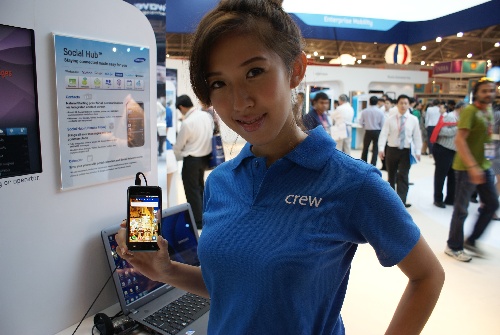 With folks like Sony Ericsson and Nokia doing their thing outside of CommunicAsia, what new gadgets can you see at this year's show?
Well, Samsung seems to be the brightest light at the show here. I'm particularly intrigued by the Galaxy Beam, which looks a little like a Galaxy S with a bit more heft in the shape of a small projector. Yes, you heard right, this little guy doubles up as a projector to screen your presentations.
The beam is, of course, nowhere near what you get from dedicated projectors. Even when shone into a dark area, the light seemed a little faint. If it were up to me, I'd use this as a last resort instead of a big show-and-tell to a first-time client. Still, I'd have to give the Korean phone maker the thumbs up for trying.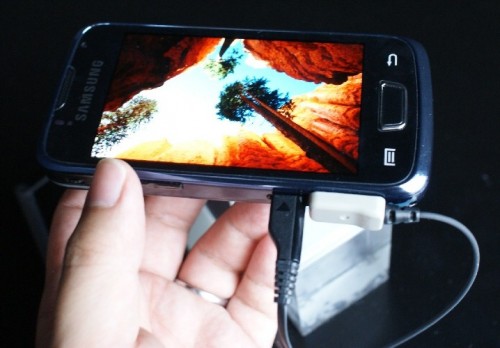 The Galaxy Beam was supposed to be launched with StarHub tomorrow, but we just got information that the event has been pushed back to next month, when it is expected to ship.
That won't push back any Android phone sales though. Samsung has said it will ship 1 million Galaxy S phones worldwide every month, making it one of the most, if not the most, popular Android phones around.
I don't doubt the Korean phone maker here, after seeing the first batch of the Galaxy S, which boasts an ultra-bright Super AMOLED screen that outdoes my otherwise excellent Google Nexus One, get sold out within days. A pre-order website by SingTel could not deal with the volume when the phone was launched last month.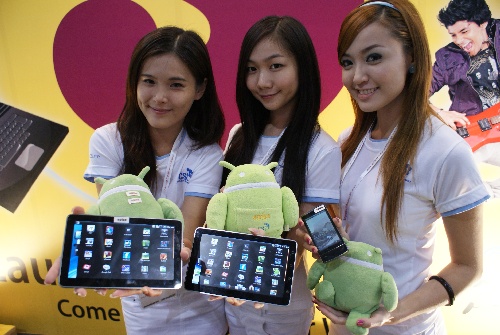 Besides Samsung's new wonder-phone, another gadget I thought I'd share with you is designed and made in Asia. It's a little Android-based touch-pad called the MI700, and is sold by Malaysian-based telecom firm Spice CSL International.
Though still a little sluggish running running Android 1.6 when I tried it, this 7-inch touch-pad will come with newer versions (either 2.1 or 2.2) when it ships at the end of August for about US$400. As yet no word of Singapore sales, but it is expected to ship in  Indonesia, Malaysia, Thailand, India and Bangladesh.
Yet another cool app – okay, not a gadget – I saw was at the NTT DoCoMo booth. There's a demo of an augmented reality app that lets golfers in Japan track where they are on the green and easily locate harzardous areas to avoid.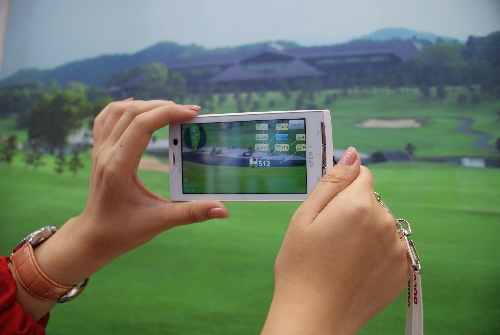 By simply pointing the camera at the front, a user will get several geo-tags on say, ponds or sand dunes to avoid. This is done using the phone's in-built GPS as well as its camera, which shows the user a live picture tagged with the useful information.
Though the app is made for NTT DoCoMo, it runs on an Android-based Sony Ericsson Xperia X10, so I don't see why it can't be exported out of Japan. Unfortunately, like so many cool stuff from the land of the rising sun, like its phones, there are no plans to bring this app to other countries for now.