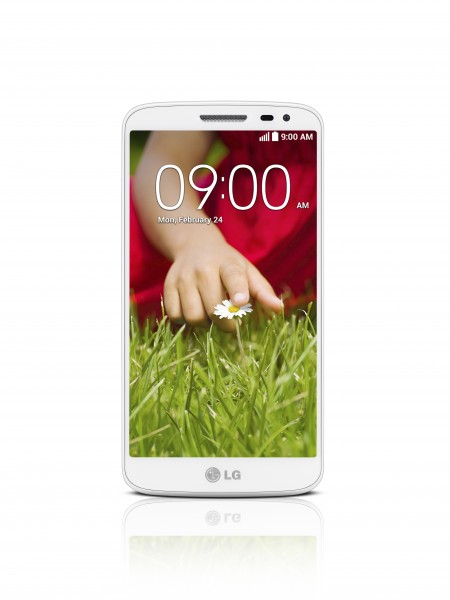 The LG Mini LTE, a smaller, mid-range version of the Korean company's flagship G2, is out in Singapore for a competitive S$528.
It's LG's latest foray into the increasingly important mid-tier market, bringing features from LG's premium G series onto a smaller 4.7-inch display.
These include G2 favourites such as the iconic Rear Key, Guest Mode, Clip Tray and Knock Code, enabling users to power on and unlock their smartphone by tapping a personalized knock pattern on the phone's display.
The G2 Mini also comes equipped with LTE (Long Term Evolution) or 4G connectivity, presenting telecom operators another option to push users into adopting the new network.
Unlike its larger variant, the G2 Mini features a removable battery. That lets users bring additional power packs, extending their mobile experience without the need for cumbersome portable chargers.
The G2 Mini, however, may have to do a little more to truly live up to its name. While the it is indeed lighter (121g) than its full-sized cousin, it is only slightly smaller than the G2. With a thickness of 9.8mm, it is also bulkier than the G2 (8.9mm), Samsung Galaxy S5 (8.1mm) and iPhone 5S (7.6mm).
Disappointingly, the G2 Mini comes with only 8GB of memory space, which some users might find inadequate. To be fair, LG tries to compensate for this by adding a microSD slot. Yet, the reduced internal memory space seems unjustified considering that the G2 Mini isn't really that mini.
LG has also sacrificed some of the G2 Mini's computing power, equipping it with a 1.2GHz quad-core chip instead of G2's 2.26GHz. The G2 Mini also sports only 1GB of RAM, compared to the G2's 2GB.
To some users, the G2 Mini LTE may seem like a puzzling downgrade of the flagship G2. At a recommended retail price of S$528, it sacrifices considerable computing power and memory just for a slightly smaller frame.
Telcos might have to dangle attractive price plans to attract the mid-tier consumer, in a very crowded and competitive segment of the market.