Sing when you're winning, they say. Certainly Samsung is sticking to the same tune, when you see how it has barely altered anything in its latest Galaxy S5.
If last year's Galaxy S4 seemed like a repeat of the same formula that has propelled the company to the number one spot in recent years, then 2014's flagship phone will give you an even deeper sense of deja vu.

The design certainly hasn't changed in any significant manner. It's not a bad thing, considering the slim edges that made the Galaxy S4 such an appealing phone are still there.
The metallic-looking edges obviously still work after all these Galaxy S iterations, and they are now complemented by a different back cover.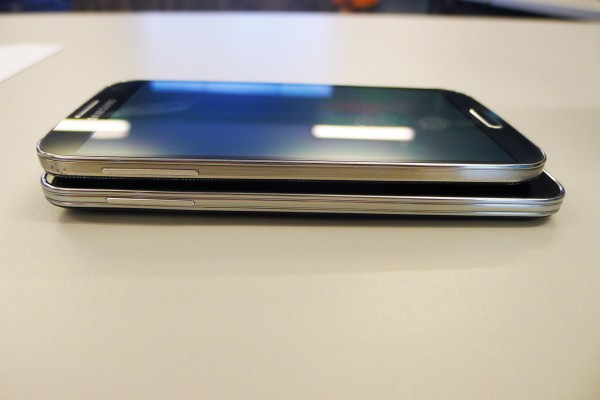 One immediately practical thing that Samsung has added to the Galaxy S5 is water- and dust-resistant capabilities. Now heavier at 145g, up from the 130g on the Galaxy S4, the new phone can be safely used when you want to shoot selfies by the pool, for example.
For this purpose, you also get a dust cover for the USB port at the bottom. If you find this troublesome to remove every day to plug in to a charger, then an optional wireless charging sleeve might be what you want with the Galaxy S5. That means you don't need to fiddle with the dust cover.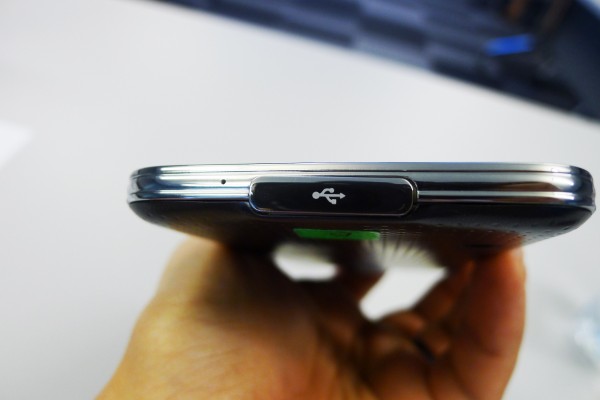 Under the hood, Samsung has upgraded the hardware to the latest available. The quad-core processor now runs at 2.5GHz instead of 1.9GHz, even though the memory available is stuck at 2GB instead of the 3GB on the Galaxy Note 3.
During my quick hands-on session yesterday at Samsung Singapore, the difference isn't obvious with a "clean" device without too many apps saddling it. It'd be interesting to see if the 1GB difference can be felt once you run the phone for a few months.
The other important upgrade is in the radios. Long Term Evolution (LTE) or 4G downloads are now up to a theoretical 150Mbps, which will suit SingTel users just fine, since they will be able to log on to that fast network in Singapore.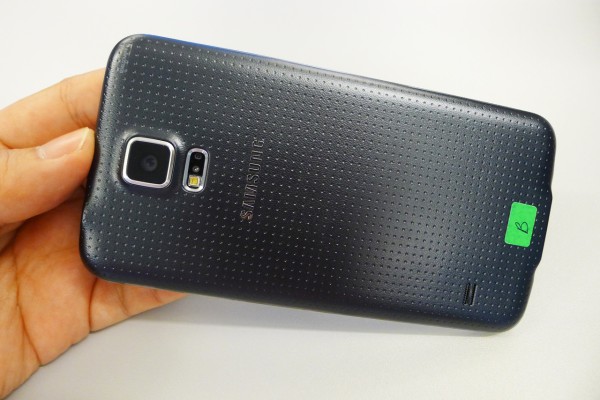 For folks who use Wi-Fi a lot, Samsung has also included MIMO (2 x 2) antennas, which essentially increase your throughput by grabbing bigger chunks of the airwaves at one go. Samsung says this is turned on all the time when you fire up Wi-Fi, and I'm sure what's the hit on battery life without testing things out thoroughly.
Perhaps even more interesting is this Download Booster feature that Samsung says can use both LTE and Wi-Fi links at the same time to download a file faster. The phone will use whichever network is faster to download a bigger chunk of a file, say, from Google Play Store or via a browser download, and combine the chunks afterwards.
I didn't try this out at the hands-on session yesterday because there wasn't a SIM card provided, but Samsung folks cautioned that this will mostly work with Internet services that rely on the HTTP 1.1 protocol.
You won't get faster downloads with services like Dropbox, which rely on a different secure protocol for file transfers. Still, this is something interesting and well worth checking out once I get hold of the phone for a few days to test out.
Despite the improvements inside the phone, the screen remains a Full HD affair, which is still very useful for reading text and viewing images clearly.
Its size has gone up very slightly from 5 inches to 5.1 inches, but more important for any potential Samsung convert is the very bright Super AMOLED screen, which remains a main selling point for the Korean phone maker.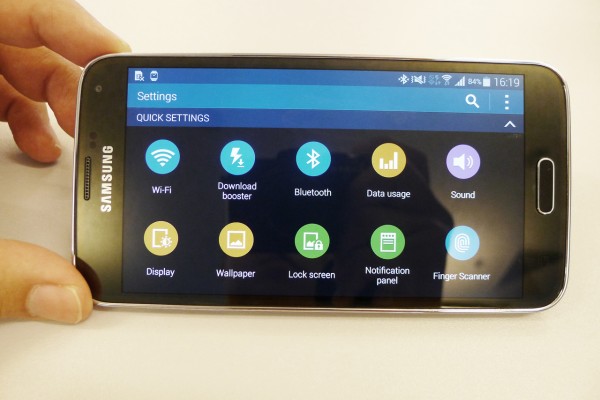 In its marketing efforts, Samsung will also be touting its slightly tweaked Touchwiz interface as well. Gone are the "smart" features that it was showing off last year with the Galaxy S4, which many users felt were clunky and got in the way of everyday usage.
The icons are flat-looking now – thank goodness – and they are not as ugly as before. However, the interface clearly still needs work, seeing how many unrelated colours you get on a single page full of icons. It's an unattractive design, at a time when independent enthusiasts and other manufacturers such as Xiaomi and Sony are putting out neater, simpler interfaces.
Interestingly, the Galaxy S5 doesn't sport Samsung's new Magazine interface, which is on its Galaxy NotePro tablets. Perhaps this is down to Google telling its partner not to add so much junk to stock Android, or maybe the folks at Samsung have finally got the message from users to keep things simple. Well, simpler than before.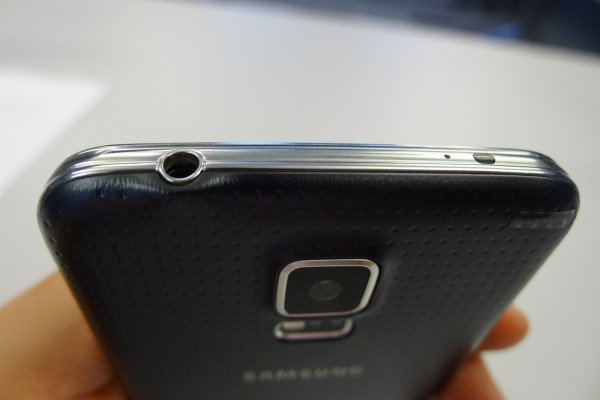 What I won't fault the company for is software such as its S Health. Included as before, it now works with a finger sensor at the back of the phone to give you quick readings such as your heart rate. It also works with Samsung's wearable gear to track your exercise routine.
It's unclear how well the finger sensor will be adopted by users. But out of the box, it offers a more secure way to pay for stuff over PayPal, which is a boost for users who use the online payment service often. Of course, it lets you secure your phone's contents easily too.
The other thing that Samsung seems to be pushing hard on the Galaxy S5 is new camera capabilities. The 16-meg camera is an able shooter, going by my quick hands-on test. In particular, the selective focus it offers lets you easily snap those dramatic, low depth-of-field shots that keeps the main subject in focus. It's great for, say, food pictures.
The company also claims that its HDR (high dynamic range) feature is able to let you shoot better even when there is, say, back light that usually makes everything else look dark. It does work, going by what I saw, and it will make many more selfies you see on Facebook or Instagram look better, I hope.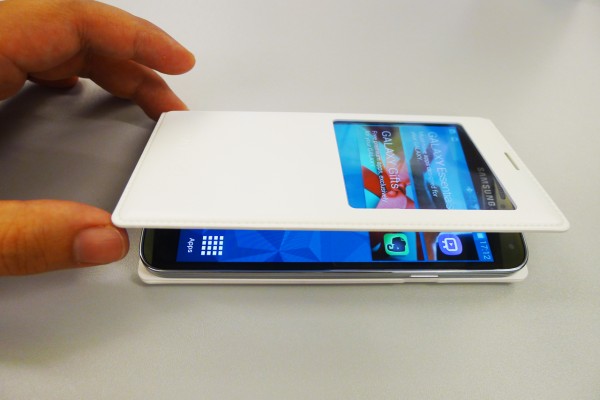 Despite not adding any dramatically new features, the Galaxy S5 will do well, that's for sure. Perhaps the lack of any ground-breaking technologies also reflects the gradual slowing down of the market when it comes to innovation.
Last year, after Samsung unveiled a slew of smart features, it learnt that people really just wanted a phone that worked well without too many frills slowing them down. It's a good thing the phone maker has taken that advice with the Galaxy S5.
It's kept to formula, yes, but if you already like Samsung phones, that's not such a bad thing. I just don't see many Galaxy S4 users running out to buy a Galaxy S5. The new phone is more for folks who have ageing iPhones or Android models and want the latest top-end phone in a nice, complete package.