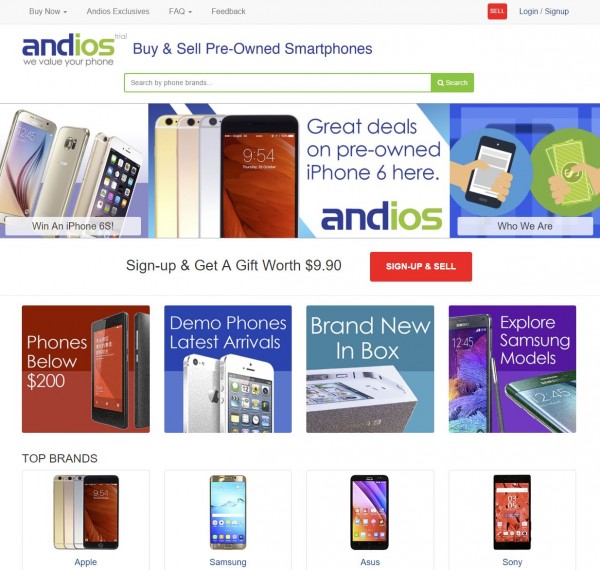 If you are thinking of selling your iPhone, there's now a new online marketplace that will help assess your gadget and wipe it clean of your personal data before letting it go to a stranger online.
The Andios website, now on trial, wants to be the go-to place for users in Singapore and the Southeast Asian region to buy and sell smartphones by providing a bit of the trust that's often lacking online.
Backed by funds from Singapore IT retailer Challenger Technologies, the online marketplace will feature "premium" used phones which are sold with a guarantee of quality, much like how used BWM and Audi cars are sold by their local distributors with a promise of reliability.
From next year, Andios will certify phones that pass a 40-point diagnostic test that would include items like the screen, camera or battery. These phones, it says, will be able to garner higher prices, though the seller would have to pay a price for the checks that is yet to be confirmed.
The other value-added service it will offer is a data wipe of any used phone that sellers bring in. Rather than a basic factory reset, this process more thoroughly erases pictures, e-mails and other personal stuff before the gadget is put on sale. Again, the price for this service is yet to be confirmed.
Users don't have to use these value-added services from Andios and can simply list their phones. However, the company believes they could go a long way to helping both buyers and sellers get what they want – a good sale.
The quality of phones has improved over the years and can easily be passed on to a few other users once the original owner has decided to upgrade to a new model, said Ben Tan, Andios' chief executive officer.
He added that there are more than 100 million new smartphones shipped each year in Southeast Asia, with many of them headed to upgraders who often change out their old phones.
At the same time, he noted, the region still has a lot of buyers who want to own high-end models but cannot afford the S$1,000 or so for a new flagship model like an Apple iPhone 6s or a Samsung Galaxy S6.
Andios earns from the monthly subscription fee that premium sellers pay to get their gadgets listed ahead of others on its site. Right now, that costs S$2 a month for each phone.
The company eventually wants to rope in second-hand phone shops to list their items. It also hopes to run a concierge service, again at a fee to be determined, which will help a seller deliver the phone to a buyer.