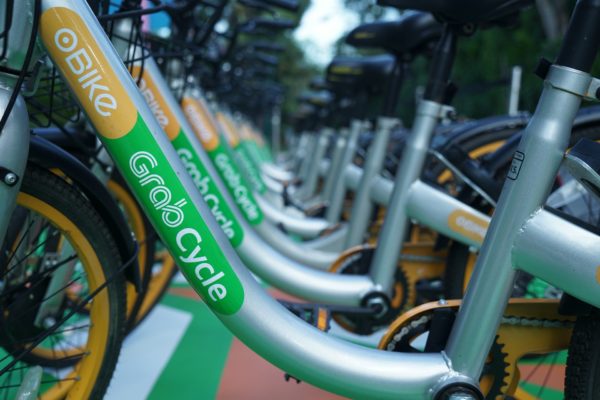 Ride-hailing service provider Grab took a big step towards cornering a new market today by unveiling an app that lets users share a bike or e-scooter in Singapore.
Called GrabCycle, it gives access to the mobility devices from various operators through a common online marketplace that users can access on their smartphones.
They simply launch the app when they approach a vehicle operated by oBike, GBikes, Anywheel or PopScoot and scan the QR code on it to unlock it.
To get started, they should have sufficient credit on Grab's electronic wallet, known as GrabPay. This partnership, announced today by the companies, is a big win for Grab as it seeks to consolidate its position in Southeast Asia.
The app is to be tested in Sentosa in the first half of this year, before it gets rolled out to other parts of Singapore. Eventually, there are plans to deploy this to the other Southeast Asian markets that Grab is active in, according to the company today.
"We will study commuting patterns and use data to identify and build new cycling pathways and common parking spots for our users," said Reuben Lai, head of GrabVentures, an arm of Grab, in a statement.
The move could enable Grab to provide a ride for the short distance, say, from an MRT station to a person's home. That will come in handy if there are no cabs during peak hour, for example.
By developing a marketplace instead of going it alone, Grab is also taking a leaf out of the playbook of other similar players in the region.
In China, service providers all seek to provide multiple services through "apps within an app" that enable users to buy cinema tickets or book a taxi on a single interface, such as Tencent's WeChat.
Indonesia's motorcycle-hailing app, Go-Jek, now provides food delivery, cleaning services and even massage bookings on a familiar interface. In Singapore, Grab seeks to be the go-to app users will fire up when they need a ride.
To avoid adding to the problem of abandoned bikes here, it said today that it had signed up with supply chain company YCH to help manage bikes booked with its GrabCycle app.
Last month, the Singapore government said it was seeking tougher rules to force bike operators to retrieve their bikes more promptly and to penalise riders who park their bikes indiscriminately.
One of the solutions suggested is geofencing, that is, ensuring that a bike is parked properly in designated areas by tracking its location more specifically.
Last week, telecom operator M1 said it was partnering SG Bike, another homegrown bike sharing service provider, to curb bike dumping.
The two plan to use M1's Narrowband Internet of Things (NB-IoT) mobile network to more closely track the bikes. This is more accurate than using GPS coordinates.
Originally designed to connect up low-power sensors around the island, the NB-IoT network enables the bikes to be monitored more precisely, so users cannot simply abandon them at any lift lobby or park entrance.