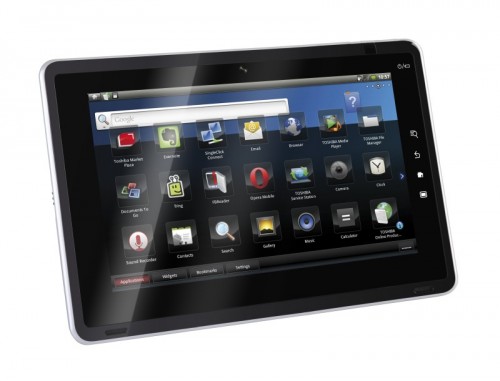 Toshiba today joined a growing list of manufacturers rolling out alternatives to Apple's iPad tablet in Singapore, bringing the S$639 AS100 tablet, as well as the S$699 AC100 laptop-like Android portables to these shores.
The more interesting of the two here, the AS100, comes with a 10.1-inch capacitive screen, has an Nvidia Tegra chip and runs Android 2.2 – the minimum requirements needed to match rival offerings from Archos and Samsung.
[Techgoondu is giving away a Toshiba AS100 here. Find out how to win.]
Other specs that matter: the AS100 is Wi-Fi only, has a front-mounted 1.3-meg camera, and has an SD (not MicrosSD) card slot that complements the rather meagre 8GB onboard storage.
Just how different is the Toshiba gizmo, which we first saw at the IFA show in Berlin two months ago, from the rest of the crowd? Here's what I found from a quick hands-on with it.
What I like:
>> Connectivity
First off, I like the fact that the Tegra 250 chip is connected to a handy HDMI port that you can plug into a TV or AV receiver to play back movies. During demos here at the launch today, we watched a Full HD trailer of Transformers and both the video and sound on the big screen don't betray any hint of lag or blur.
I also like it that the AS100 has a USB 2.0 port that you can hook up to a PC to transfer files directly. Missing on the iPad and Samsung Galaxy Tab, this feature even lets you connect a regular keyboard and type away.
>> Big  screen
Unlike the Galaxy Tab, which sports a 7-inch screen, this AS100 comes only with a 10-1-inch screen, which is great for reading e-books and websites on the go. It helps too that it is packed in a slim 14mm frame that is no thicker than a small paper file.
>>  Relatively speedy
I tried a couple of demo sets which were not particularly impressive with the screen and soft-touch buttons a little laggy, but on another machine – the one that I am using for this hands-on/review, things run smoothly like on a regular Android 2.2 phone. That means no lag in between programs and when swiping through the photo gallery.
>> Support for Flash-based sites
You still have to download the Flash application on your own – Toshiba doesn't ship it with the device, for some reason. But with Android 2.2 onboard, you're guaranteed support for websites that use Flash, which number in the thousands, so you don't miss any of the rich multimedia offered online. The longer Apple continues to deny out-of-box support for Flash sites, the more people will look to alternatives like the AS100.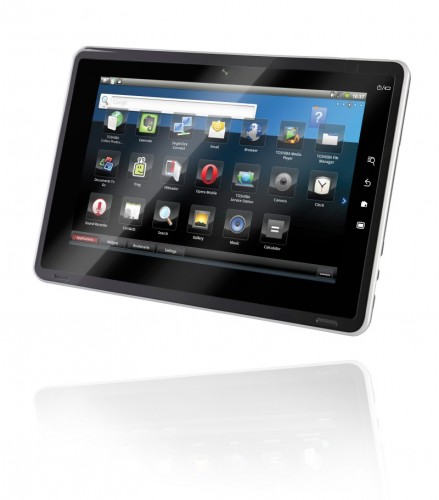 What I don't like:
>> Missing features: GPS, Android Market
Some things are obviously missing here, especially in the form of GPS. This severely limits applications that use the feature, for example, ones that tag your photos according to location, not to mention maps.
At the same time, there is no native Android Market support, so you have to "sideload" your apps, like what you would do with the Archos tablets and other Wi-Fi-only Android variants for now.
>> Plain vanilla software suite
Out of the box, there are really not many applications for the user to explore. This would have been okay if Android Market was part of the package, but without it, newbies who don't have the savvy to look for apps or e-books elsewhere will find it hard to get started doing much except surf the Web or play the few games included in it.
>> No pinch and zoom in browsers
Strangely, though multi-touch is supported, say, in the picture gallery, both the default browser and Toshiba-bundled Opera browser do not seem to support pinch and zoom. I tried a number of machines at the launch and found this rather strange. Sure, you can still zoom in and out with the icon at the bottom of the screen, but hey, why is the cool feature not enabled?
>> Shiny screen
Yes, the iPad may have the same shiny body, but why replicate it on the AS100? Just play with the AS100 for a short while and you'll see your fingerprints smudge the pretty screen in no time. This doesn't bode well when you hear news about people passing on viruses while swiping on others' tablets.
Bottomline:
Costing over S$100 more than the similarly-spec'd but sleeker S$499 Archos 101, the AS100 has a fight on its hands.
Plus, compared to the more expensive but better packaged Samsung Galaxy Tab, Toshiba's offering has no native Android Market support or a list of useful software out of the box. So, the AS100 is stuck in between a budget tablet and a well-polished one.
For geeks, these are not deal breakers, of course, since they would know how to get their apps manually via sideloads. Indeed, they might prefer the lack of any software they do not use.
But the biggest problem for Toshiba is its price. If it were cheaper, it would compete much better with similarly spec'd tablets out now, and soon from the likes of Acer and Asus as well. As it were, Toshiba would have to get early adopters to buy in before a deluge of competitors rush in with even cheaper offerings.
Specifications
Model
Toshiba AS100
Toshiba AC100
CPU
Nvidia® TegraTM 250, 1GHz
Operating System
AndroidTM 2.2
Display
10.1" capacitive multitouch widescreen display with 1,024 x 600 pixel resolution

Rotation of displayed content on the screen by accelerometer

10.1" WXGA Clear SuperView LED backlight display with 1,024×600 pixels
Storage
8GB Flash Storage
16GB Flash Storage
Connectivity
WLAN (802.11 b/g/n), Bluetooth 2.1 + EDR (Enhanced Data Rate)
Built-in RAM
512MB
Ports
1 x USB 2.0, 1 x Mini USB 2.0, 1 x HDMI, 1 x 3.5mm Headphone/Mic, SD/MMC Card Reader
Video
1080p video playback (with HDMI), Supports Adobe® Flash® Player 10.1#
Camera
1.3MP
Dimension
281mm x 181mm x 14mm
262.05 x 189.8 x 14/21 mm
Weight
750g
870g