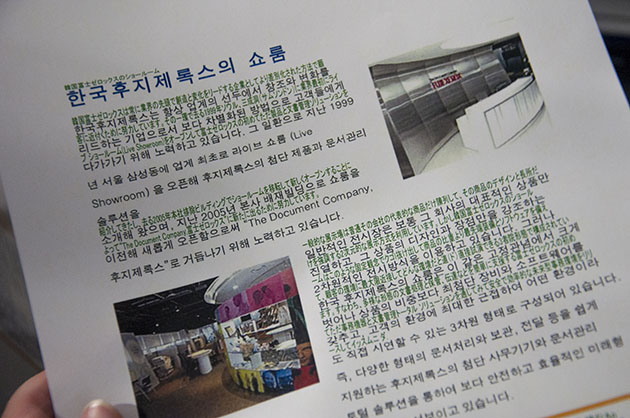 Fuji Xerox currently sits at the top of the printer and photo copier market in Asia Pacific, but the Japanese company is determined to move into the software-as-a-service (SaaS) space.
Take its Scan Translation Service (pictured above), a cloud service that multinational corporations dealing with large amounts of foreign-language documents may find useful.
Pop a document into a Fuji Xerox copier, and an image of the document is scanned into the cloud. Advanced optical character recognition software identifies text in the image, converts it into plain text and runs it through third-party translation software.
In under a minute a new document pops out, either in the same copier or another networked copier across the globe, its format and layout intact but with text fully translated.
Users can choose to replace the text with a new specified language, or have the translated version displayed in smaller font above the original language.
Like any other machine translator, the result is not perfect. Instead, the aim of the service is to give readers the gist of the document, which could be useful in a number of ways.
If an office worker has to sort through dozens of foreign-language documents a day, knowing the key message of each will speed up the process. Managers can also identify documents which they think are most important before getting a proper translation of a select few.
The scan translation service also works seamlessly with Working Folder, Fuji Xerox's cloud storage service. Documents stored in Working Folder can be sent to the copier for translation, and documents translated at the copier can be uploaded directly to Working Folder.
Unfortunately, the service is limited to only a four languages at the moment: Japanese, English, Chinese, and Korean. Plus, translation is only available through Japanese. A user cannot, say, translate a document from Chinese to Korean.
As businesses continue to cater to the needs of mobile workers, the need to print paper might disappear altogether but it remains to be seen if Fuji Xerox's attempts at breaking into SaaS will pay off.
In 2011, a significant 67 per cent of Fuji Xerox's revenue comes from sales of office copiers and printers.