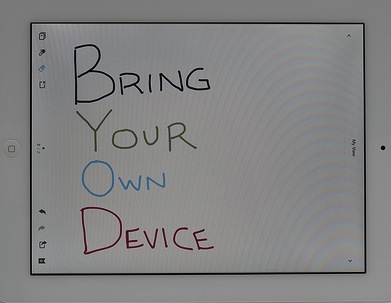 (Photo credit: ajleon)
The age-old practice among labourers of the past who bring their own tools to work has found its way into the modern enterprise.
In the past year, technology companies from mobile security firms to IT consulting houses have been touting the benefits of allowing employees to use their own personal devices for work.
Bring Your Own Device (BYOD) initiatives, they say, would empower workers by giving them the freedom and flexibility to work anywhere on their own personal devices. The result is improved productivity, and in some cases, better customer service.
But is BYOD merely hype? After all, aren't companies already issuing devices like smartphones, tablets and laptops to mobile workers to boost productivity? How would allowing the use of personal devices make workers more productive than they already are?
Indeed, increased productivity is already a reality with existing enterprise mobility initiatives that allow workers to access corporate e-mail and other applications and data remotely through company devices.
BYOD merely expands the scope of those initiatives to include personal devices, which employees will most likely favour over corporate devices that tend to be older due to longer technology refresh cycles at most organisations.
Moreover, employees excluded from mobility initiatives for various reasons such as cost, are going to try to access the corporate network through their own devices if they need to. So, formalising a BYOD policy would minimise the security risks arising out of unauthorised access to corporate networks.
In an interview with Techgoondu, Andy Cocks, chief technology officer at IT services company Dimension Data, noted that IT managers have to "secure the devices that are coming into the network, because workers are going to do it anyway".
Cocks said the first thing companies should do in any BYOD programme is to secure access to corporate networks through virtual private networking (VPN), security certificates, as well as wireless access points that are capable of authenticating users.
To manage devices that connect to corporate networks, companies should use a mobile device management (MDM) from vendors like Cisco Systems and Good Technology. The software monitors which apps employees are using, and the location from which they're accessing the network.
In some cases, business apps may need to be reconfigured so they can be used on different mobile platforms. These apps should work just as well on smaller screens without compromising the user experience, and could even be streamed to devices using virtual desktop infrastructure (VDI) technology.
Finally, any BYOD initiative should be governed by policies that detail how devices and data are managed and secured. For example, what happens to an employee's personal data if you have to wipe all the data off a stolen device?
Other policy considerations include:
1. Allowing employees to use their own devices means they can be available 24/7. Are you expecting them to reply to e-mails even on a weekend?
2. Can your employees access everything they need in their job? Or, do you need them to sign on to your SAP HRM system on an office PC to apply for leave?
3. Are you going to subsidise the cost of personal devices and data services? Do you require them to use a specific software or operating system?
4. What is the level of support that you would provide for personal devices in the company?
5. What kinds of personal devices can be used within your network? Are you planning to allow all smartphones and tablets, or just smartphones powered by a specific platform only?
Like most IT projects, start with a pilot BYOD programme to prove its value and viability in your company. Set your policy in action, tweak things if necessary and monitor the programme closely to capture data that supports the need for a BYOD initiative.
In some cases, BYOD policies could lead to higher support and device management costs, so do weigh your benefits carefully before jumping onto the bandwagon.