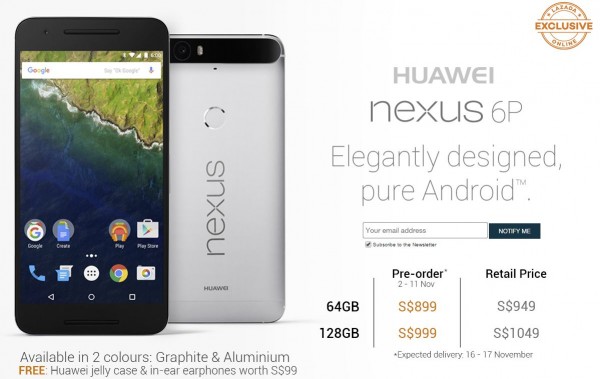 Google's Nexus 6P phone is open for pre-orders in Singapore from November 2 on the Lazada Singapore website, at a discount of S$50 for each model.
The latest "pure Android" device, made by Huawei, will cost S$899 for the 64GB version and S$999 for the 128GB option, as part of a promotion.
After the pre-order closes on November 11, the phones will cost S$50 more, at S$949 and S$1,049. Two colours – graphite and aluminum – are available for Singapore.
Featuring a 5.7-inch AMOLED screen, the new phone sports the latest Android 6.0 "Marshmallow" operating system. As a Nexus device, it will also get the latest software updates from Google as they become available.
The main chip onboard is a Qualcomm Snapdragon 810 (version 2.1) running at 2GHz. It works alongside 3GB of memory to ensure that apps run smoothly.
As with the past few Nexus phones and tablets, Singapore isn't among the first wave of countries to have the Nexus 6P on sale. In Asia, Japan, India, Australia and South Korea are among those ahead in the queue.
Unfortunately, Singapore isn't the cheapest place to buy the phone, either. In the United States, the 64GB version costs US$549 (S$767) while the 128GB one goes for US$649 (S$907).
That compares with S$899 and S$999 here. The difference of about S$100, however, may not be enough to convince users to ship their phones from overseas, given the lack of warranty and additional courier charges.