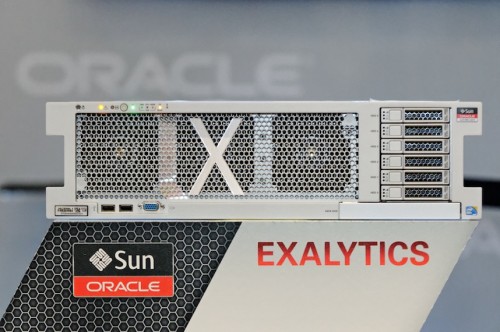 Amidst the brouhaha surrounding the spat between Oracle and Salesforce at Oracle Openworld this year, Oracle unveiled a public cloud service to strengthen its position in the SaaS market. The world's second largest software maker also announced significant products that would help companies make better business decisions by making sense of the growing avalanche of corporate data. Here's a rundown of the key announcements and what they mean for enterprises:
Oracle Public Cloud
Aimed squarely at the Salesforce crowd, the Oracle Public Cloud provides access to Oracle Fusion Applications including customer relationship management and human capital management, Oracle Fusion Middleware and Oracle Database, on the cloud.
To top it off, Oracle Public Cloud comes with the Oracle Social Network that allows workers to receive real-time information feeds and collaborate with one another. Users will have access to a range of collaboration tools, including profiles, groups, activity feeds, status updates, discussion forums, document sharing, co-browsing, instant messaging and web conferencing.
Oracle is also making it easy for companies to move existing applications that currently reside in their own datacenters to the cloud. Existing Java-based applications and the Oracle Database can be deployed onto Oracle Public Cloud without code changes, allowing companies to take advantage of existing IT assets and skills. Pricing for Oracle Public Cloud will be based on a monthly subscription. Each hosted application can be purchased independently of others.
What this means
If you intend to move your Oracle apps and other Java-based applications to the cloud, the Oracle Public Cloud will be the smoothest path to take. While the Salesforce cloud supports Java through Heroku, a cloud application platform acquired by Salesforce last year, Oracle CEO Larry Ellison claimed that Heroku does not run J2EE apps. For an explanation of what Heroku supports (or not), check out this blog post by Heroku co-founder Adam Wiggins.
In any case, the Oracle cloud still provides a quick way to test-drive new apps and services on the cloud before deploying them in-house, if you are operating on the on-premise deployment model. Companies that are planning to extend access to their existing applications to new office locations can also tap on the Oracle cloud without incurring new hardware costs.
The Oracle Big Data Appliance
This appliance, which combines x86 processors with high-capacity disks that offer up to 432 terabytes of storage, will help companies manage the growing pool of big data, or unstructured data, from e-mail systems, sensors, smart meters and social networks. These data sets are so huge that they cannot be stored and analyzed with standard database management tools. Companies, however, are increasingly seeing the need to make sense of these vast amounts of data to improve business decision making.
What's in the box: Oracle NoSQL Database, a distributed database for managing massive quantities of data and coping with changing data formats; an open source distribution of Apache Hadoop, a Java framework for processing and querying vast amounts of data on large clusters of commodity hardware; Oracle Data Integrator Application Adapter for Hadoop that simplifies creation of data processing jobs on Hadoop; Oracle Loader for Hadoop to load datasets from the Hadoop environment into Oracle Database 11g; and the open source distribution of R, a free software environment for statistical computing.
The Oracle Big Data Appliance is integrated with Oracle Database 11g, Oracle Exadata Database Machine, and the Oracle Exalytics Business Intelligence Machine. Oracle says this integration will let companies organize and analyse all their structured and unstructured data together.
What this means
Oracle did not say when the appliance would be ready. Moreover, running Hadoop – which is meant to work on massively distributed commodity hardware – on a single appliance does not make sense. More details on the benefits of such an implementation will need to be articulated before comparing Oracle's appliance with similar offerings from Teradata, IBM and EMC.
Oracle Exalytics Business Intelligence Machine
Following the introduction of the Exadata database machine and the Exalogic middleware and application server, Oracle took the wraps off Exalytics, which is touted as the industry's first in-memory hardware plus software system. The machine comprises Oracle's Sun Fire server with 1 terabyte of RAM, the Intel Xeon E7-4800 processor with 40 cores, Oracle BI Foundation software including Oracle Business Intelligence Enterprise Edition and Oracle Essbase, and Oracle TimesTen In-Memory Database for Exalytics.
What this means
Instead of asking customers to buy yet another "Exa" box, Oracle could have baked the BI capabilities into Exadata, as opposed to moving data from Exadata into Exalytics. The reason for doing this is unclear, though it may be that Oracle Essbase (which can't do calculations on the fly) and TimesTen can't operate efficiently in Oracle's database architecture. Sure, Oracle makes money selling boxes but enterprises would surely think twice about getting another piece of hardware when IT consolidation remains top on the priority list of CIOs.