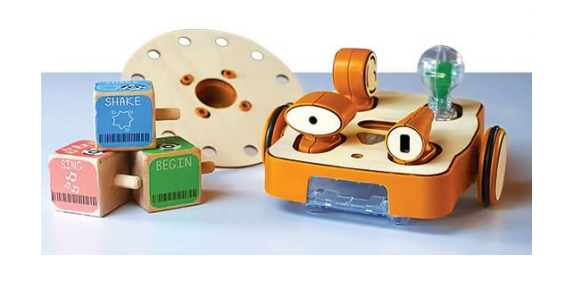 Hop onto a train or walk into any restaurant in Singapore and chances are, you'll find young children fiddling with apps and games on their smartphones and tablets.
While these gadgets can foster creativity and help kids learn better, they have resulted in growing concerns from educators and parents about excessive screen time and the lack of kinaesthetic and social interactions.
Realising this, the Infocomm Development Authority (IDA) said yesterday that it will pilot a "Playmaker" programme from next January to offer child-friendly, tech-enabled toys to 160 pre-school centres in Singapore.
Examples of such toys include a robot kit that allows a child to create a sequence of instructions (a programme) using wooden blocks, which can be scanned to tell the robot what to do. There are also LED stickers that young children can use to easily add lights to their art and craft projects.
IDA said these toys will help children acquire abilities such as logical thinking, reasoning, sequencing, estimation and "inventive thinking", as well as encourage them to develop social and communication skills through group work.
Earlier this year, IDA conducted a three-month proof-of-concept (PoC) of the programme with Temasek Polytechnic's Preschool Learning Academy. The learning points from the PoC will be shared with the pilot pre-school centres.
One of the first pre-schools to introduce the tech-enabled toys to children is Yuhua PAP Community Foundation (PCF) centre, located in Jurong Lake District where a slew of smart city projects are being tested.
"Children are natural explorers with a high level of curiosity," said Victor Bay, PCF's chief executive officer. "These technology-enabled toys further cultivate their curiosity and provide the children with numerous opportunities to see their ideas and imagination come to fruition."
IDA will be investing S$1.5 million in the Playmaker programme. This amount will cover the cost of the tech-enabled toys, ongoing tech support, as well as workshops for educators to understand how to integrate the use of the toys into existing curriculum.