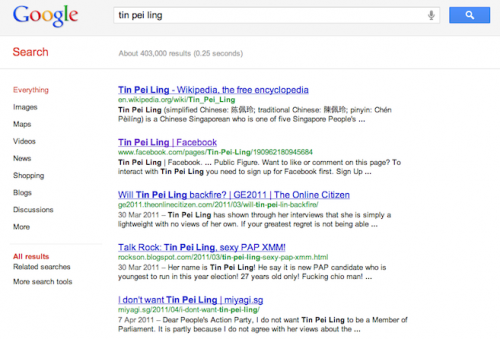 Google Singapore has unveiled its list of top search terms used by Singaporeans in its annual Zeitgeist that offers a glimpse of the year's major trends and events.
Topping the list of personalities were Tin Pei Ling, Nicole Seah and George Yeo, underscoring the nation's interest in the watershed General Election 2011. Searches on the elections also figured prominently in this year's top news searches.
Singaporeans were also on the hunt for information on the iPad 2, the iPhone 5 that didn't materialize, as well as Samsung products. The gamers in our midst were googling for Dragon Nest, DotA and Wolfteam. Of course, there's also the PC Show this year, where we were hungry for deals to feed our insatiable appetite for all things tech.
We also tried to keep up with the major events that took place this year, including the devastating earthquake in Japan and the uprisings in Libya and Egypt. Closer to home, many wondered about the changes to the subway system with the addition of new stations on the Circle Line.
Singaporeans also relied on local bloggers to make sense of what's going on around them, get fashion tips and check out the latest happenings in the lives of their favourite online personalities. The honours for the top local blogs went to mrbrown, Beatrice Tan and Yankaykay.
This year, we also tuned in to the latest celebrity gossip, with American reality TV star Kim Kardashian — famed for her 72-day marriage to NBA star Kris Humphries — topping the list of celebrity searches. The Justin Bieber fever has infected Singaporeans too – the teen star led the red carpet list, with girlfriend Selena Gomez closing in from behind.
Singaporeans also scoured the Web for places to get their fix of pizzas, grilled seafood, cupcakes, waffles and nasi lemak. We love places that marry great food with great shopping. So, it wasn't a surprise that Hong Kong emerged as the top travel destination for Singaporeans, though a good number of us are also on the lookout for beach destinations like Maldives, Phi Phi island and Hawaii.
"The year-end Zeitgeist is a cultural barometer showing us what quickened our national heartbeat and drove our curiosity," said Google spokesperson Sana Rahman. "Singaporean searches for sun-soaked travel, good food, gadgets and games show we're a nation that knows how to have fun any day of the year," she added.
Here's a quick overview of Singapore's top searches:
F

astest Rising Queries

Groupon
iPad2
iPhone5
Japan earthquake
Planking
Google+
Tin Pei Ling
Samsung Galaxy S2
Clementi mall
PC Show 2011

Fastest Rising People

Tin Pei Ling
Amy Winehouse
Nicole Seah
Steve Jobs
Adele
George Yeo
Kate Middleton
Natalie Portman
Selena Gomez
Avril Lavigne

Top Travel Destinations

Hong Kong
Maldives
Kuching
Paris
Cayman Islands
Phi Phi island
Honolulu
Hawaii
Aruba
Cancun

Top Food and Drink

Pizza
Sushi
Grilled seafood
Cupcakes
Ice cream sundae
Pancakes
Gourmet popcorn
Nasi lemak
Waffles
Red velvet cake

Top Online Games

Dragon Nest
Maplestory
DotA
Tetris
Diablo 3
Dark Souls
Mousehunt
Pokemon
Bejeweled
Wolfteam

Top News Searches

iPad2
Libya
Singapore election
Japan earthquake
iPhone5
Samsung
Steve jobs
Tin Pei Ling
Nicole Seah
Egypt

Top 'Image Search' Searches

Justin Bieber
Girls Generation
Singapore
Selena Gomez
Love
Megan Fox
Taylor Swift
Shinee
SMRT map
Angry Birds

Top Celebrity Searches

Kim Kardashian
Emma Watson
Scarlett Johansson
Angelina Jolie
David Beckham
Megan Fox
Britney Spears
Jennifer Aniston
Lindsay Lohan
Jackie Chan

Top Local Blogs