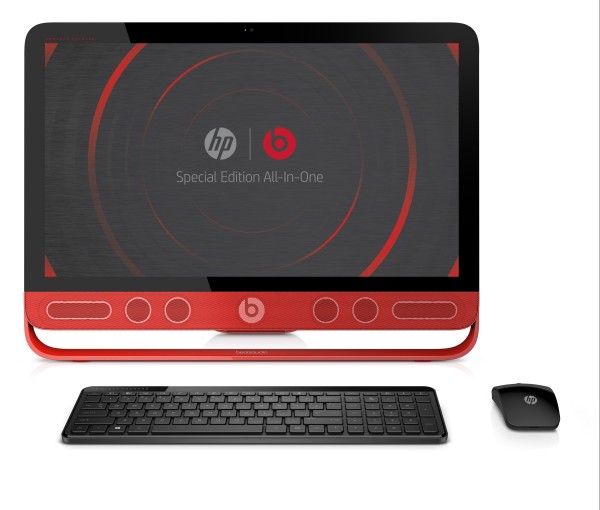 You have to give it to HP for not giving up on the all-in-one PC market. Few can compete on looks or features with the Apple iMac today, but the new Envy Beats All-in-one tries manfully.
This vamped up version of the usual HP all-in-one series has a few tricks up its sleeve. Certainly, when it comes to looks, it stands little chance against the sleek, slim metallic frame of the iMac.
What the HP machine does promise is improved audio quality through the front speakers with Beats Audio. Wait a minute, didn't Apple just buy Beats? Yes, but the partnership between Beats and HP will continue until 2015, at least.
I'm not crazy about Beats headphones. But with the Envy Beats PC, you have to say it beats most of the thin-sounding competition out there. In this all-in-one machine, the sound from the quad speakers plus quad subwoofers simply has more presence.
Music just sounds fuller, clearer and less of an afterthought than most all-in-one PCs. Fortunately, HP has not gone crazy on the bass either, especially when I tried a FLAC version of Diana Krall's Live in Paris album.
All the same, if you like to pump things up with Black Eyed Peas, as I did, the Envy Beats machine reaches lower in the low frequencies than what you'd expect.
Okay, the bar is set pretty low for built-in speakers, but the HP machine is certainly good enough for background music when you're working on the PC.
HP will be hoping to get youngsters who love the Beats branding onboard. There's even an extendable hook where you can presumably hang your Beats headphones when you are not using them.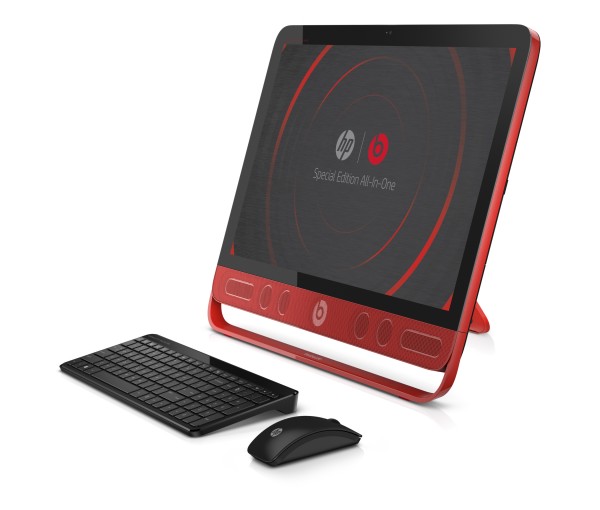 Is all the emphasis on audio enough reason to buy this PC? Well, it's got other selling points too.
The touch-capable 23-inch screen should be welcome for young users, especially with the PC's bundled apps for drawing and scrawling. This screen also reclines up to 30 degrees, so it can be used as a sort of drawing board.
It's on such touch-capable all-in-one PCs that Microsoft's Windows 8.1 interface looks attractive. You can view large photos of the Hong Kong protests from the news feed by simply swiping through them, or read recipes on the full-screen interface.
The Full HD resolution of 1,920 x 1,080 is just about okay for a 23-inch screen. It's similar to the basic iMac with a 21.5-inch screen, but not especially sharp if you place it very close up, as you'd do with a touch screen.
What I'll also consider carefully is the performance. The Envy Beats is what you'd expect from a PC sporting a mid-range Core i5-4460T processor, 8GB of RAM, HD4600 integrated graphics from Intel and a 1TB hard disk with an 8GB solid state drive built in.
It does the job but isn't particularly spectacular. Running the PCMark 8 benchmark, which measures performance in everyday tasks like word processing and video conferencing, the HP machine scored 2,456 PCMarks for a typical workload for home users and 3,476 PCMarks for office tasks.
Those are not particularly bad scores and would get you past typical tasks without too many issues, but the performance is not top notch either. A high-end Core i7 machine we tested earlier this year scored 3,356 for the home tasks.
Don't expect to max out the eye candy on demanding games either. In synthetic benchmarks that test a PC's video capabilities, the Envy Beats machine performed as you'd expect – not very well.
In the latest 3DMark benchmark, it scored a mere 579 for the Fire Strike test. In the slightly older 3Dmark 11 test, it scored P1084.
These scores mean the PC will get you started on some of the latest games, but don't expect to see nearly half of all the eye candy that can be maxed out on high-end gaming PCs.
To be fair, this HP machine is not aimed at hardcore gamers. Still, there are areas HP could have improved on. The design is one.
For starters, the optical drive at the side is a chunky affair compared to a slot-in drive. And do people still want such a drive included, when portable, removable drives are cheap and convenient?
The keyboard and mouse, while competent, also don't quite match up with the screaming red face of the main unit. Could HP have at least added some red accents to these accessories?
After having it on my desk for a few days, I have to say this Envy Beats PC can grow on you. It won't win any beauty contests against rivals like the iMac or even Dell's XPS range, but it has some things going for it, like its better-than-expected audio.
At S$1,599, HP's all-in-one PC is within the range that Apple is selling the 21.5-inch iMac for, which is between S$1,488 and S$2,088.
I'll pick the HP if I want its better sound, touch capabilities and pre-installed Windows, if I need that. But first impressions count for many users and on that count, there's no contest against the prettier, sleeker iMacs.