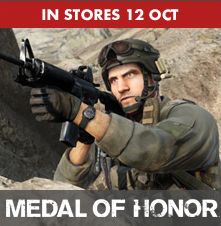 As you read this on or after October 12 (Tuesday SGT), you should have been able to buy a boxed copy of Electronic Arts' triple-A shooter, Medal of Honor, in Singapore.
Yet, during a check at Sim Lim Square earlier on Monday evening, the word is that the Tier 1 Edition of the much-awaited shooter, which comes with extra in-game weapons, may have been delayed by a day at the shops.
This means folks who have pre-ordered a physical copy of the game may have to wait another day before firing away online in one of the year's biggest games.
One Sim Lim retailer told Techgoondu that he feels let down by the distributor, having taken pre-orders from customers and promised to sell them the game the day it ships – October 12. He said EA should have at least let him sell users a code that they can bring home to fire up the game when it officially goes live.
Instead, he now has to be content with folks buying a digital copy direct from EA (UPDATE: I just managed to buy a copy online and play it, so the digital copy is on time), or gamers cursing him for not letting them in on Day 1.
Now, if you're not a FPS geek, you may ask what's the big deal about Day 1. Well, that's the day that you learn the ropes, find the little hiding spots and fleece the noobs coming online on Day 2.
So, good hunting for those logging in on Day 1. For Day 2 comers, good luck. And if you manage to buy a physical copy of MOH on October 12 in Singapore, please update us on this story.
We suspect it could be that Singapore is ahead of the United States by quite a few hours, so it's actually October 13 SGT when the clock passes October 12 in the US. If that's the case, the posters and signboards plastered all over the shops here in Singapore should have said October 13 instead.
NOTE: We had originally said we were not sure if the digital copy would be playable on October 12 SGT, but this has been verified as playable.