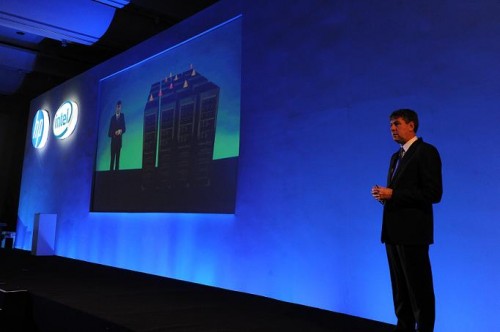 Our insatiable demand for cloud computing services may have created a data centre boom, but cloud service providers and enterprises are still figuring out ways to build cheaper and more efficient data centres.
Indeed, the rising cost of power, cooling equipment and other data centre facilities has been plaguing the IT industry for years. According to Gartner, an average of US$8 million a year is spent on manual IT operations such as installing server updates. Additionally, the tons of energy needed to power the servers and keep the lights can cost companies up to US$29 million over three years.
Earlier this Friday, HP took the wraps off ProLiant Gen8, a new line of servers designed to slash the cost of data centre operations. The servers are touted to be "self-sufficient", which means the machines can take care of themselves by monitoring over 1,600 system parameters and fix problems when necessary. The servers were developed under a two-year US$300 million program dubbed Project Voyager, which HP hopes will redefine data centre economics by automating every aspect of the server lifecycle.
Much of the automation is carried out by a dedicated ILO (integrated lights-out) processor with minimal overheads in system performance, HP executives said during a media briefing in Beijing. The chip will read data from sensors embedded within the system, and notify administrators of impending faults before they occur. That means you could quickly identify, say, a faulty network card without running a whole bunch of diagnostics to find the root cause of your problem.
Besides highlighting system problems, Proliant Gen8 servers can be housed in HP's new intelligent racks that allow data centre administrators to monitor the energy consumption of each server, plus track and manage server inventory on a dashboard. The server uses metallic connectors at its edges that snap into an intelligent rack to relay status data.
The servers, which run on Intel's Sandy Bridge Xeon E5 processors, are available in blade, tower and rack server configurations. They come with PCI Express 3.0 slots, as well as HP's SmartDisk controller tuned for speedy solid-state drives with three-disk mirroring. Upgrading to the latest hardware drivers software updates is also a breeze with HP's Smart Update technology that takes the task off administrators.
When combined with the latest processor technologies, HP claims the Proliant Gen8 can speed up performance of applications such as databases and video streaming by as much as 50 percent. But at least one analyst believes HP's confidence in identifying patterns on how applications are working and applying that insight to optimise performance is overstated.
"There is neither the data nor the architecture to provide true application SLA (service level agreement) monitoring," said David Foyer, an analyst at Wikibon, an open IT advisory service. "Wikibon believes this should be a strong focus for ProLiant Gen9. Server administration will need to migrate to management of virtual machines and applications."
Enterprises that need a little more help with managing the Gen8 machines can turn to HP Insight Online, a new cloud-based, IT management portal that offers support services from HP Insight Remote Support and HP services.
HP says the new support portal will improve IT productivity by automatically retrieving and managing system health, asset and warranty information, eliminating as much as 90 percent of the time used to track contract and warranty details, and 85 percent for asset configuration data.
So what do all these this mean for enterprises? According to Foyer, the Proliant Gen8 servers can shave 15 percent off the server budget, when compared with the previous ProLiant Gen7 servers.
"For a company of 4,000 people with a revenue of US$1 billion, and an IT budget of US$30 million (3% of revenue), the saving would be about US$1.2 million. A three-year business case would have net present savings of US$3.3 million," he said.
But Foyer noted that the ability to realise these savings will depend on whether the IT department has overall control of the IT budget.
He said: "Organisations where IT does not have responsibility for facilities costs or has outsourced servicing and management of server infrastructure will see far lower direct savings but should push for lower prices from their vendors".