Yet another lifestyle speaker maker seems to be making its way here to grab a share of the iPod/iPhone/iPad crowd's penchant for spending loads of money on okay-sounding speakers that look prettier than they usually perform.
That's what it looks like when you first see Libratone's pretty Live and Lounge speakers that wirelessly stream music from your iDevice.
Fortunately, at least the small Danish speaker maker with 20+ staff does make its Airplay-enabled speakers sound honest in a field where a hefty S$1,000 often buys you more form than function. 
The Libratone Live, going for S$1,199, requires little setup. If you use an Android phone, there's a 3.5mm audio jack at the back to hook up, but that means you have to walk towards the speaker to change tracks.
Essentially, the Libratone Live is a single-box system that comes with five individually powered drivers – two ribbon tweeters (25 watts each), two ceramic mids (25 watts each) and a handy 8-inch bass unit (50 watts) at the bottom.
The four drivers at the top half of the plastic cabinet fire at an angle, much like a dipole surround speaker in 5.1 setups, so you will hear the sound reflected indirectly. This presumably means that you can place the unit off-centre, much like iPod dock-speakers that are usually placed at the side of a room.
I must say I wasn't won over by the promise of room-filling sound during a show-and-tell today for Singapore media. Like many iPod-based speaker systems, there is no stereo imaging (it's just one speaker, after all) and no matter how loud you play the music, the sound feels a little trapped at the speaker. There is no illusion of a singer in front of you, but more of a concentrated burst of sound.
That's being a little harsh, of course. Libratone actually does an above average job, at least among its rivals, in separating the various facets of a music track. Though they are all squeezed together in a small cabinet, the various drivers do make the different instruments in a track sound distinct.
Bass is another plus point, again when compared to similarly-priced rivals. The Libratone Live easily beats most desktop-bound iPod dock speakers, whether they use AirPlay and Wi-Fi or wired connections. The lows produced by the Danish speakers are more controlled and tighter than the loose and undefined noise coming out of many "bass heavy" speakers today.
The Libratone Live is still no match for a pair of separately powered bookshelf speakers. But for folks who want less clutter and prefer to easily stream music straight from their iOS device or computer (PC or Mac using iTunes), it appears attractive.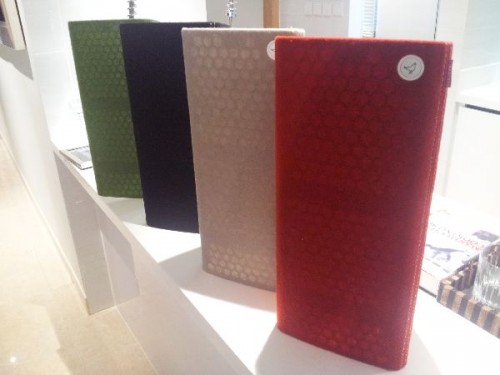 It helps too that the Live comes in various nice colours (red costs S$100 more, and a replacement cover will set you back about US$99 or S$125) and the cover is made of cashmere. Yes, this is similar to the stuff used to make sweaters, which is nice to touch and ranks high in terms of the all-important wife acceptance factor.
Libratone  also showed off a bigger sound bar-type Lounge speaker today, which I think will impress those who seek a fuller sound for their living room.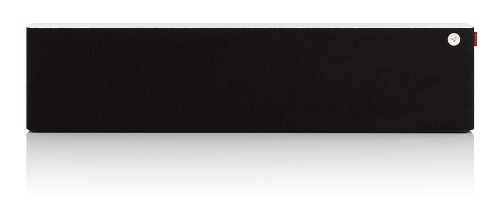 To start with, by firing straight at the listener, the Lounge produces sound that feels more direct. Though it uses the same amplification as the smaller Live, there is enough power to drive a bigger 8-inch inverted woofer for better bass and two 4-inch ceramic mid-range drivers (the tweeters are the same size).
With a bigger cabinet, the Lounge also doesn't suffer from as much congestion as the Live. If you want to fill a room with effortless-sounding music or movies, the Lounge is much more attractive, despite costing quite a bit more at S$1,999. It too features the same touch of cashmere but will come in black for Singapore for now.
Are both the Libratone speakers worth checking out? Definitely, if you don't want to simply go for the loudest bass and smallest speakers.
As an enthusiast, I'd still recommend that you save your music in an open lossless format like FLAC (instead of Apple's proprietary stuff), store them on a server instead of a space-constrained Apple device and finally to get a hi-fi system built on separate components.
But that's not for everyone, of course. The cost and difficulty in setting up and a lack of space in increasingly crowded Singapore are but two reasons why people prefer systems like the Libratone Live and Lounge.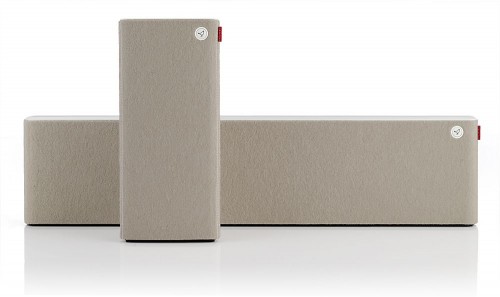 And for roughly the same price as these two speakers, I've seen poorer-looking and heard poorer-sounding speakers that somehow still convince many iPhone users, who are thrilled more by the wireless streaming or docking than the actual sound, to part with their money.
In other words, if you are set on buying speakers that play tracks from your iDevice, you could do a lot worse with many other brands should you ignore these Libratone speakers.