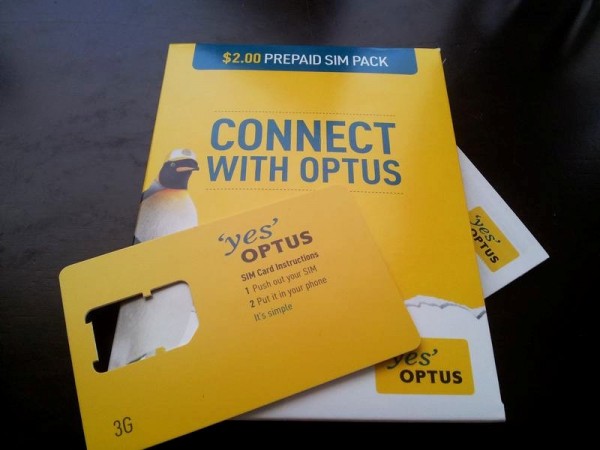 One of the things you miss most when travelling is the chance to constantly check your Facebook feed and update – or irritate – your friends with photos of how great your holiday is.
That is all because of the sometimes crazy amounts of charges you could incur while setting your phone to log on to overseas mobile networks. Sure, telecom operators have reined in bill shock with constant reminders of your usage overseas while also introducing more use-all-you-can mobile roaming options in some countries.
But nothing beats buying a local prepaid SIM card, if you take a bit of time setting things up. Not only does it offer cheap local calls, it gives you usually unbeatable mobile Internet rates.
The connection I'm using right now to type this blog entry is one example. I'm in Australia for a week-long trip and a A$15 prepaid SIM card from Optus takes care of every single call and probably every Internet connection I'd need here.
The card, which I bought at the airport, comes with unlimited local calls as well as all-you-use bandwidth for a week. The disclaimer, according to the nice chap at the store, is that it is supposed to only work with phones. A prepaid SIM card for a tablet costs A$30 and comes with only 1GB of downloads.
Strange way of segmenting customers, you'd think. No issue though. We consumers can outsmart telecom operators.
Simply buy the cheaper card for your phone. Then open up a portable Wi-Fi hotspot with that phone and connect up with your other phones, tablets and even laptops via Wi-Fi. Problem solved!
It's best that you have a spare phone to slot in the prepaid SIM card and make it work as a modem, of sorts. But you can make some arrangements even if you don't.
In my case, before I left Singapore, I had forwarded all the calls on my wife's phone to mine since she expects fewer calls than me while overseas. My phone is set to auto-roaming without data turned on. In other words, it will receive phone calls and SMSes, just not stuff like e-mail messages.
In Australia, I slotted the Optus SIM card in her phone, which now became a "common" phone that we both shared. She could use WhatsApp to message friends back home (using the Optus data connection) while I added my Gmail account and also set up my own Facebook account on a separate Friendcaster app.
This way, I could get my stuff on her phone without messing up her own data. Of course, we might get into arguments about who actually owned the phone now (!), but hey, it's the cheapest way to have the best of both worlds.
Back in the hotel, when I have her Galaxy Note charging in the wall socket, I fire up the portable Wi-Fi hotspot on it and connect my tablet and laptop to the Net using that same link. No need to pay for the hotel Internet charges.
The great thing about this Optus deal is that it also comes with an Aussie number. This means someone could actually call us on the phone directly using some of the rather cheap IDD services in Singapore. Unlike with Skype, the voice quality here is not dependent on the Internet connection on the go, which can be patchy at times.
I know, telcos hate "smart" consumers like me. But hey, I've paid my share of roaming charges in the past too. Each time I travelled, I used to pay hundreds of dollars in roaming bills.
Of course, this setup only works if there are prepaid SIM cards sold at your destination. Plus, the quality of the connection may also differ in some countries.
But clearly, there is no turning back to "auto" roaming like the past. These days, the first thing I do when I'm on a trip longer than a few days is to head to a local mobile phone store to buy a prepaid SIM card.