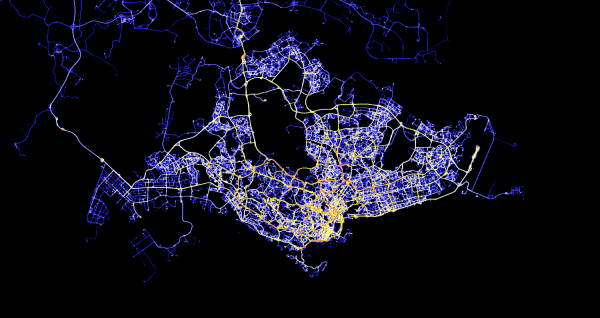 Getting stuck in traffic on a Monday morning? Well, if you are not from Bukit Timah or Clementi, at least you can say you're not at the most jammed up parts of Singapore during rush hour.
It takes about twice as much time to drive to town from Bukit Timah in the morning, compared to non-peak hours. The same for Clementi, if you drive to and from work.
Together, the two neighbourhoods suffered the most from peak hours jams, in terms of the additional time required to get to town, according to a survey from GPS vendor TomTom released earlier this month.

It gleaned the insights from data collected from actual trips by Singapore drivers. Tens of millions of data points were captured in this exercise for six months, from September 2012.
The survey measured how fast a driver could get to a central point – Raffles Place – during the peak hours of 7am to 9am and 5pm to 7pm. This is then compared with the time required during the quiet hours of 1am to 5am.
For folks living near Bukit Timah, the bad news is that drivers take 111 per cent more time to get to town in the mornings, and spend 97 per cent more time in the car in the evenings, compared to when the roads were clear.
Clementi, meanwhile, was the second worst commute for the morning commute. Drivers there spend 97 per cent more time to get to town, compared to non-peak hours.
So, which are the places least affected during peak hours? Changi Airport (31 per cent more time spent), Pasir Ris (44 per cent) and Sengkang (45 per cent) turn up high in the charts.
You can't move in to the airport, but the northeast suburbs of Pasir Ris and Sengkang might be nice to live in if you want to avoid tearing your hair out in the morning drive to work.
Well, at least until more new houses start sprouting at these new estates anyway, and more cars join the roads there.
How can your smartphone help in this situation? Stuff Singapore suggests five apps to beat the traffic. Find out more.