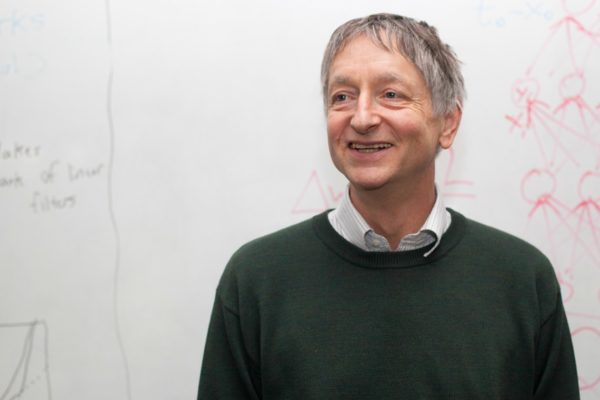 Mention artificial intelligence and people will associate it with American and Chinese companies like Amazon, Google, Tencent and Baidu.
Canada may not have produced giant tech firms but it is making its imprint on the global AI map.
For many years, the Canadian government has poured billions of dollars to fund AI research and development including setting up special institutes and developing thousands of researchers and computer scientists.
The result: an astoundingly rich AI ecosystem that includes 60 plus research labs, about 650 start-ups, more than 40 accelerators and incubators and numerous academic labs applying AI to healthcare, finance, manufacturing and other industries.
How did this come about?
Canada's accomplishment is a combination of world class universities, leading researchers and scientists and an open immigration policy, said Canadian Minister of International Trade François-Philippe Champagne.
"This has allowed Canada to become an AI hotspot. We're nurturing AI talent in a big way," he told a group of 10 journalists in late May in Montreal, on the sideline of the C2 business and technology expo.
The journalists were invited by the Canadian government to visit AI facilities and startups in Toronto, Montreal, Edmonton and Vancouver.
To be honest, there isn't a lot of "noise" about Canadian efforts in AI. To our surprise, we discovered that the country has been investing in AI in a big way.
For instance, from 2016 to 2017, Canadian government investment in AI research and development topped C$1.3 billion. Leading the AI charge is the Canadian Institute for Advanced Research, which is working on a C$125 million pan-Canadian AI strategy for research and talent.
For the last few decades, computer scientists and researchers have converged on Canada to work on neural networks, reinforcement learning, natural language processing, machine learning, deep learning and other AI technologies.
The country boasts several AI gurus. They include Geoffrey Hinton, the godfather of deep/machine learning, based at the University of Toronto.
Another top expert is Yoshua Bengio, another leading expert in deep learning based at the University of Montreal and who heads the Montreal Institute for Learning Algorithms (MILA)
Also from Canada is Richard Sutton, the most cited researcher worldwide in reinforcement learning, an area of machine learning that is concerned with how software agents ought to take actions in a specific context, in order to maximise performance.
Canada's open immigration policy showed up clearly during the four-day media tour. Geoffrey Hinton, originally from England, is one of the many top AI researchers who moved to Canada many years ago. The journalists met talent from many countries including India, China, Europe and the United States.
Minister Champagne also pointed out that since the US tightened its immigration policy, the number of Indian students to Canada have doubled to 140,000 last year, up from 70,000 the previous year.
Many students studying STEM (science, technology, engineering and mathematics) subjects will remain to work in Canada after graduation, he added.
Many of the AI community moved to this North American country because the research there is focussed on solving business issues and other challenges in healthcare, manufacturing and finance.
In discussions with several AI researchers and experts here, they often showed their abhorrence of using the technology for military and security purposes like building killer robots and facial recognition systems.
The availability of talent has also created an attractive environment for foreign investment. Global companies that have invested in AI-linked labs and centres in Canada include General Electric, Microsoft, Samsung, Intel, Thomson Reuters and Amazon.
In 2016, Google invested C$4.5 million in the Montreal Institute for Learning Algorithms and in a deep learning research centre. It also committed C$5 million to Toronto's Vector Institute, which focuses on AI research.
Earlier this year, Tech Mahindra announced a C$100 million investment in a Centre of Excellence to work on major technologies including AI.
The only Canadian AI company that I'm vaguely familiar with was Layer Six. Founded in 2016 to develop deep learning technologies for enterprises, it was acquired by Canada's TD Bank, for a nine-figure sum in January 2018.
Then there is Element AI, co-founded by Yoshua Bengio in 2016 to build cutting-edge AI business solutions. Element AI opened an office in Singapore last year.
After four-days criss-crossing Canada, visiting and talking to AI research institutes and researchers, I found three similarities with Singapore's AI strategy – government funding, talent development and support for local enterprises.
Last year, AI Singapore was unveiled with a S$150 million war chest to "grow the knowledge, create the tools and develop talent to power Singapore's AI efforts" over five years.
Government funding is key because deep pockets are needed to support researchers and scientists. Scientific breakthroughs require years of painstaking research, hence financial stamina is crucial.
To achieve progress, talent is needed. Like Canada, Singapore needs talent to develop the tools and solutions.
To complement, the foreign AI experts working here, AI Singapore is also developing local talent through its apprenticeship programme. The first batch of 13 apprentices are currently in their nine-month programme.
Both Singapore and Canada's AI research institutes and academic labs are helping their respective local companies to adopt AI technologies.
AI Singapore is matchmaking local businesses with the right experts from the universities. It helps define the business solutions needed, then looks for the relevant professors and researchers to undertake the projects. It also partially funds these projects.
Notwithstanding its usefulness in improving lives and businesses, AI has its challenges. What is the underlying algorithms for example, powering the machine learning or neural network? It may be designed to do good, but can have negative impact too. This is a discussion for another day.
Ultimately, government involvement in AI only provides a headstart. Businesses and professionals must get involved by acquainting themselves of the technology's capabilities or be left behind,