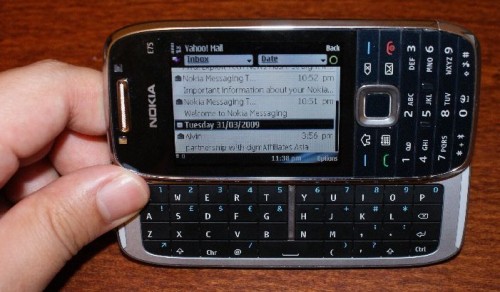 I met up with the Nokia folks recently and got my hands on the upcoming Nokia E75 messaging phone, which we wrote about at its launch in February 2009.
Let's start by saying this ain't your average slim phone. In fact, placed next to my HTC Touch Diamond, it is much thicker and bulkier. But that's not exactly the best comparison, as you'll see soon after getting a feel of it for the first time.
If I hadn't told you this was a phone with a slide-out keyboard, you might just be fooled. Now, if you consider that a full-sized Qwerty is hidden in that shiny frame, would you still consider this a thick, ugly phone?
Nope, I didn't think so. It's actually pretty small for a device with so much packed in.
The Qwerty keyboard feels natural to type on because the keys are big – obviously, much bigger than the popular and well-made Nokia E71 – and thus easier to avoid typos. The keys, for the sake of sliding smoothly under the front section, are perfectly flat – in other words, no "tiny pillows" like on the E71 for easy finger-typing. But you won't miss them, as the keys are big enough and you'll avoid typing the wrong keys most of the time.
How does the much-vaunted e-mail offering Nokia do? I'd say I'm impressed at how easy it sets up push-mail. It's almost, dare I say, Blackberry-like.
All that's needed is your e-mail address and password and you're good to go (I got my Yahoo account up within a minute). With that information, Nokia's middleware servers over the Net basically does the job of hooking up to your mail server and from there on, pushing your messages from your mail service provider to your inbox automatically.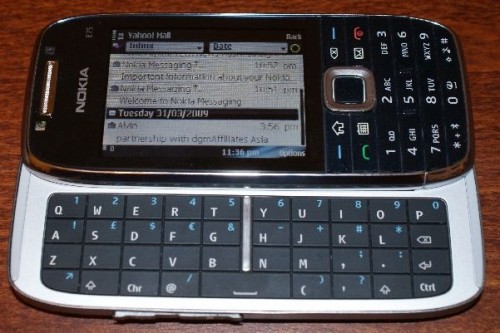 The e-mail interface is generally user-friendly as well. I'm a fan of Blackberry's e-mail interface – they always manage to make the most badly-formatted HTML e-mail messages appear readable on the small screen – and Nokia comes close to that experience.
During my tests, one potentially problematic HTML e-mail came through pretty neatly in text form. I had a choice to read it in HTML, which was rendered perfectly, except that in this rich form, I had to scroll across the screen to read stuff, which was a drag.
Which brings me to this: The E75 is best used in horizontal form (that is, with its Qwerty keypad extended), so that you don't have to keep scrolling down a long, narrow screen (in default "phone" mode). This is how Blackberry screens – at least the large Qwerty-based ones – have been such wonders to use.
While I'm on the topic of swapping modes, I should also say that the the phone switches from portrait to landscape mode effortlessly, without much lag. Another thing to point out – a nice contextual menu is available when you are viewing your list of messages. Just select "right" on the D-pad and a pop-up menu lets you reply/forward/delete the message. It's a nicer, prettier alternative to the Blackberry's Options key.
So, what's my goondu take on this? I'd say this is a niche phone done pretty well. I don't particularly like the overly-obvious metal frame, which seems a bit too bling to me, though the metallic back-cover, similar to what you get on the E71, is great. Still, as a Qwerty phone, this is one of smallest and most pocketable.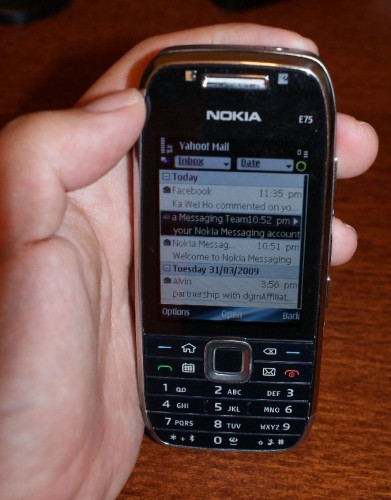 But for e-mail – Nokia's main reason to get this phone out – I am still not sure this will unseat the new Blackberrys, which are becoming prettier even as they have become easier to use, like with the Bold and Curve 8900. And we're still awaiting the touch-screen Storm in the coming weeks.
Strangely, I actually wanted a touchscreen on the E75. Yeah, I know it already has two keyboards, but scrolling around a large HTML e-mail message made me miss the nifty touch-screen zoom in/out functions on my HTC Touch Diamond.
Bottomline: If you always liked Nokia's E-series or its S60 platform, this is the slide-out Qwerty phone you've been waiting for. Messaging junkies take note too that Nokia push mail will be free on this device (though the price for the service is not out yet).
But with the Blackberry Storm round the corner, I'd like to check out that little gizmo and size things up before sinking my money here. (Hint: look out for a hands-on on the Storm here soon!)