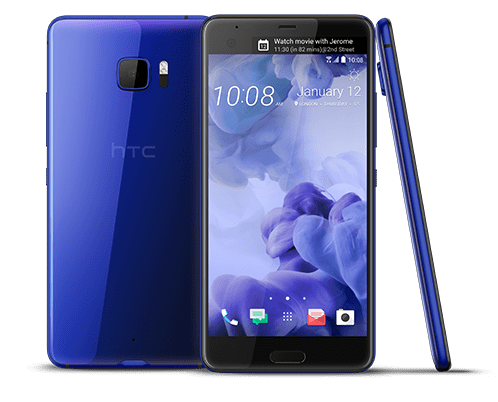 What would you get if you crossed the Samsung Galaxy S7 edge with the LG V20? HTC attempted to answer that question today when it announced the HTC U Ultra, the bigger sibling of its new U series of devices.
The first thing you will notice about the 5.7-inch U Ultra is that it departs from HTC's all aluminium design that its past few flagship phones were renowned for.
This time, HTC seems to have taken inspiration from Samsung, and introduced what it is calling a liquid surface. This is essentially a glass back that has been designed to 'look' liquid.
I have always been a huge fan of HTC's all-metal designs as well as the feel of its past flagships, so this move to a glass back a la Samsung is somewhat disappointing to me, especially given how similar it looks to the Galaxy S7 edge.
It might look better in my hand, and hopefully feel better than I expect, but I will have to wait to get my hands on the U Ultra before making my final judgement. At present, however, the U Ultra comes across as a disappointing departure from HTC's design language.
At the top of the front screen is a 2.05-inch display, which works just like the secondary screen on the LG V20. It allows you to have easier access to your favourite apps and contacts, as well as event notifications.
However, unlike the V20, HTC is attempting to improve the capabilities of the dual display with the new HTC Sense Companion.
As evident with the 'U' moniker, the Sense Companion is the highlight feature of the U Ultra. It is a personal artificial intelligence (AI) feature that learns your habits over time in order to give recommendations or notifications that it thinks will be useful to you.
For instance, it could warn you that it might rain before you leave the house, or even remind you to charge your phone if it thinks you need more battery life for the rest of the day. It sounds a bit gimmicky at the moment, but it could be really useful if it works as advertised.
The Sense Companion can also detect your voice at all times, and allows for voice biometric authentication. This certainly sounds interesting, and might prove to be a great form of security. However, I will need to see if it will respond to voice recordings of myself before buying into the idea.
Internally, the U Ultra matches the specifications of recent flagship phones. The 5.7-inch LCD display has the same Quad HD (2,560 x 1,440) resolution as the HTC 10.
It packs a 2.1GHz Snapdragon 821 processor, 4GB of RAM, and either 64GB or 128GB of internal storage. If you need more storage, there is a microSD card slot that supports up to 2TB of expandable storage.
However, the U Ultra only sports a 3,000mAh battery, which is somewhat concerning given its huge display. The HTC 10 had a 3,000 mAh battery as well, but only had a 5.2-inch display.
With a much bigger display, as well as a extra secondary display, battery life will be one concern for potential buyers, unless HTC manages to surprise us with its software optimisation.
Speaking of picking up cues from other manufacturers, HTC has also decided to show its courageous side by mimicking Apple in removing its 3.5mm headphone jack. Without that, you will have to use a pair of USB Type-C headphones.
HTC's excuse for removing the headphone jack is that it needs to use a Type-C connector in order to provide a better sound profile via its new bundled USonic earphones, which analyse your inner ears with a sonic pulse in order to create a personal profile just for 'U'.
This sounds nice and all (pun intended), but the lack of a headphone jack seems even more unacceptable given that the battery size did not increase, and the phone does not even have water resistance.
I am skeptical that the quality of the USonic earphones will make up for the convenience of using the same pair of earphones across all my devices. Don't even get me started on selfie sticks that require the headphone jack as well.
For the rear camera, the U Ultra boasts the same 12-megapixel UltraPixel camera that the HTC 10 had, but with phase detection autofocus accompanying the laser autofocus this time.
At the front is a 16MP camera, which can also take 4MP photos through its UltraPixel mode. On paper, the U Ultra should be a very capable shooter.
No pricing and availability have been given for Singapore yet. However, the HTC U Ultra is currently up for pre-order in the United States for US$749 (S$1,066), with orders shipping in March. It comes in four colours: Brilliant Black, Cosmetic Pink, Ice White, and Sapphire Blue.
HTC U Play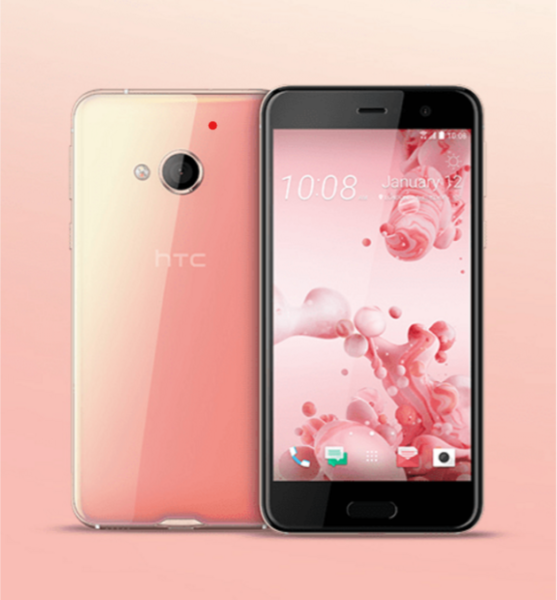 HTC also introduced the HTC U Play, a smaller version of the U Ultra. It comes at a more modest 5.2-inch size, with a Full HD (1,920 x 1,080) resolution.
Everything else is a downgrade from the U Ultra as well. It comes with a MediaTek Helio P10 processor, 3GB or 4GB of RAM, 32GB or 64GB of internal storage, and a meagre 2,500 mAh battery.
While both phones have similar front cameras, the U Play has a 16MP rear camera compared to the 12MP UltraPixel camera that the U Ultra sports. The U Play is also missing the dual display, making it a much more compact phone in comparison to its larger sibling.
No pricing or availability has been given for the U Play in any country at the moment.