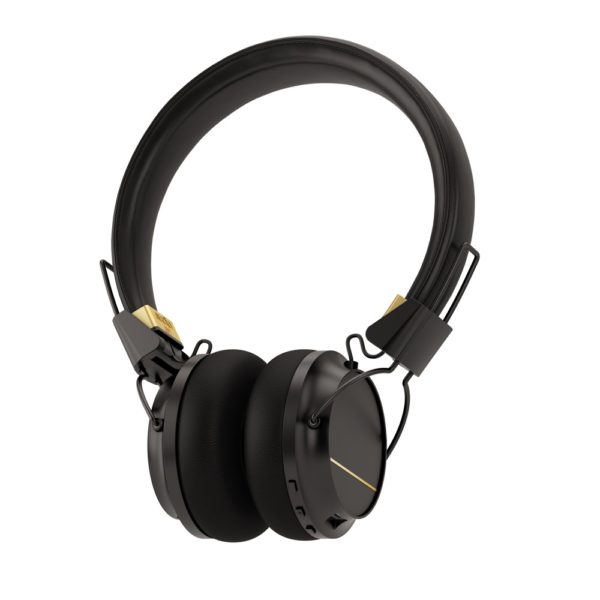 Sudio isn't a well known brand to music lovers here, but the Swedish headphones maker is looking to change that with its reasonably priced Regent on-ear Bluetooth wireless headphones.
Design-wise, the S$229 Sudio Regent is as minimalist as it gets – which isn't surprising, given its Scandinavian heritage.
It's lightweight and highly compact too. The ear cups can be folded and tucked away in your bag or drawer when not in use. Adjusting the position of the cups is as easy as sliding them along a metallic bar.
Our review unit also came with a pair of caps featuring leaf motives. The caps are meant to be fitted onto the sides of the ear cups to add a dose of style to an otherwise all-black or white exterior.
On the bottom of the right ear cup are three buttons for volume and power controls, which can be difficult to locate after putting on the headphones. If you like, there's also a 3.5mm audio jack on the left cup for a wired connection.
The leather-clad cups fit snugly, but because they press against the ears, it gets a little warm and uncomfortable after more than hour of listening. That's why I prefer over-ear rather than on-ear headphones, in general.
The Regent's 50mm drivers deliver the sonic goods, though their vocal performance isn't as refined as that of higher-end – and more expensive – cans like the Bowers & Wilkins P9 Signature.
Adele's vocals for example, lack the presence and stunning inflection that I'd expect. Ditto for Norah Jone's rendition of Don't Know Why, which sounded flat amidst the accompanying music.
Where the Regent really shines is in instrumental pieces. Lang Lang's Orchestral Suite No. 3 in D major performance sounded crisp, and you could almost hear him striking each note with finesse.
While some reviewers have lamented the Regent's mild bass performance, I'm fine with the lows which aren't too overpowering and deliver just enough oomph in rock numbers like Guns N' Roses' Sweet Child of Mine.
If you're in the market for a pair of well-balanced headphones at a decent price, and not too fussy about vocal quality, the Sudio Regent could be worth checking out.