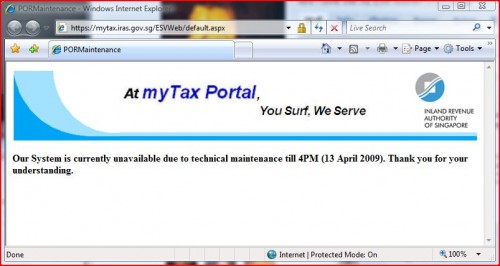 What do you do when the entire nation is rushing to file their taxes just two days before the April 15 deadline? Put your e-filing server on maintenance, of course!
That's what the taxman has done today, interrupting taxpayers' attempts to file their income statements for at least six hours, at the time of writing.
The problem was first noticed at about noon, and since then, taxpayers have not been able to log in to the IRAS (Inland Revenue Authority of Singapore) e-filing website.
At noon, it had said the site would be up by 2pm. At 2pm, it was still down, and a message on the website said to wait until 4pm. The latest "maintenance" will keep taxpayers waiting until at least 6pm.
It is unknown what's wrong with the server right now, but one thing's sure: it's contributing to the online jam as more people fail to log in and file taxes on time.
I first spotted the problem this morning. Having logged in late (near midnight on April 14) in the past couple of years, I had decided to play nice this year and avoid the rush in the last minute, when IRAS servers are understandably busy.
But after logging in at about 11.30am this morning, I noticed immediately how slowly each page loaded. It took perhaps an entire minute to load the opening page, which had taken just seconds the night before when I helped my father file his income tax.
As this was my first time filing tax as a sole proprieter, I had to look through several sections of the forms to make sure everything was in order. After waiting an eternity for pages to load, I was presented with a blank screen at one point.
Logging in again, I was told "our system is currently unavailable due to technical maintenance till 2pm (13 April 2009)". Right on top of that: "At myTax Portal, You Surf, We Serve."
Filing tax used to be a breeze because my former employer – Singapore Press Holdings – was in the Auto-Inclusion Scheme, which meant every single cent I earned was already reflected in the system. All I had to do was claim relief.
This year, I'm not sure it's going to be as easy.
LATEST UPDATE: Finally, at 10pm, I logged in and managed to file my taxes. And that was after two unsuccessful tries just minutes ago. This is surely not the efficiency I expect from IRAS. Today is two days away from the deadline of April 15. Imagine trying to log on on the day itself.
The site was down for at least 6 hours, and possibly longer, going by the on-off nature of things. Sometimes, you're lucky, you get in; other times, you just get logged off in the middle of filing. I don't know what catastrophic failure was experienced by IRAS, but suffice to say, it's not what you expect of the taxman when it comes to this crucial period in filing taxes.
Instead of sitting here waiting for the IRAS server to be back up, I might as well have sent off the paper form in a much shorter time. Of course, I don't get that choice now without personally turning up at IRAS, since I have been e-filing in the past.
Where have the cost and time savings from e-filing gone to? Could they not have translated into a more efficient system to actually help end users? I'd think IRAS should at least have put up a sign on its website to say its servers are down, instead of making everyone log in, wait and end up seeing that error screen.
Here are a series of the screenshots throughout the day, as I waited to file my taxes.
[nggallery id=4]