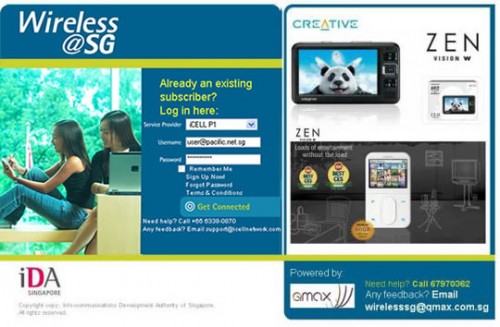 Hard to log in. Keep getting disconnected.
If those problems have kept you from surfing the Web with Wireless@SG, you'll be happy to hear that the free Wi-Fi hotspot service islandwide is now going to be a breeze to use.
With a new secure sign-on system announced today, you will only need to sign in once on your PC or phone and never have to do it again when you next visit a Wireless@SG hotspot.
PC users simply have to download and install the Wireless@SG Connect app on their laptops or netbooks. The same for iPhone and Windows Mobile users, though Android and Blackberry fans will have to manually key in their settings. More details here.
In all cases, this is a one-off process – much better than having to log in every time you log on.
The improved ease of use, which will be rolled out on all hotspots by September 2010, does away with one of the biggest problems with Wireless@SG – logging in.
The so-called Seamless and Secure Access (SSA) feature could also remove another thorny problem – frequent disconnections.
A big headache for users, this often has to do with hotspots overlapping one another. Essentially, your PC thinks two Wireless@SG access points (AP), say, SingTel's at Burger King and M1/Qala's at McDonald's next door are on the same network and keeps handing you from one AP to the next.
Each time this happens, you are asked to re-login because the two networks are run by different operators. Thus, with an auto-login feature, you will at least be spared the trouble of being logged off and asked to sign in again every other minute.
From testing the software and service at today's demo at City Mall, things seem straightforward enough for PC users as well as iPhone and Windows Mobile users. They only need to set up their username and password on the software to be installed on their device, and remember to log on to an AP called Wireless@SGx instead of Wireless@SG.
However, my Google Nexus One, running Android 2.1, took a bit of setting up. It was not the phone that caused the problems with the manual setup. It was SingTel, which insists on making you add a long string of characters behind your usual username, in the name of a more secure login.
If you are trying to key in this username on a phone, it's best you surf to the SingTel site (possibly using 3G) to generate and copy the exact username, then paste it into your configuration screen. Once done, you will automatically log in to Wireless@SG every time you hit the hotspot.
Fortunately, the other two Wireless@SG operators – iCell Network and M1 – spare us from this trouble. You only have to key in your regular username and password to get going.
Since its inception, I've been a fan of Wireless@SG and I'm happy with this development, which shows that this is a project that the Singapore government has not forgotten after unveiling it in 2006 (if only all projects had a good follow-through like this).
Sure, I now use 3.5G on my phone because it's pretty fast, seamless and affordable. But there are many times I still use Wireless@SG. At cafes, I'd rather log in with Wi-Fi than tether my phone and suck up my laptop's battery.
And what about people who do not need or want to use 3.5G, like the school kids at the libraries, who get to surf for free on their laptops? Wireless@SG fits the bill.
Finally, let's not forget how Wireless@SG got people hooked on this habit of surfing on the go. Like a "free trial" of paid 3.5G services, it gave people a taste of mobile surfing that many never turned back from. At its original launch, it also forced telcos to rethink their 3.5G prices for the first time, which eventually led to today's affordable levels.
Yet, for so long, many users have bitched and complained about Wireless@SG, one of Singapore's best telecom policies. To me, it's free, it's got people surfing on the go, and it's moved things in the market. Now, it's also easy to use.