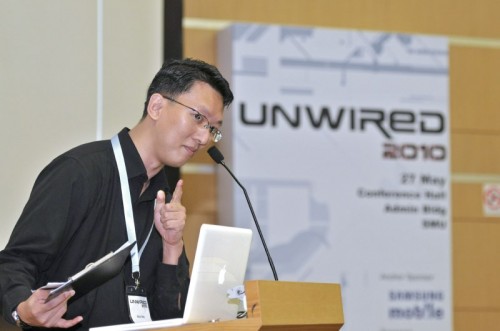 From mobile broadband to the next big app on the small screen to augmented reality, the inaugural UNWIRED 2010 conference held on May 27, 2010 at the Singapore Management University discussed these topics and got a truly participatory attendance asking for more time for questions.
About 160 attendees, speakers and media thronged the halls on the eve of a long weekend, all eager to debate the latest issues as well as get in touch with peers from the industry.
Here's what some attendees said:
Susanna Janonkova (via Twitter): "Went to #unwired2010 Singapore today : good investment of time, nice to meeting you all and thanks for the organisers!"
Paula Turco (over e-mail): "Thanks again for orgainizing the Unwired 2010 conference. I especially liked the presentations by the 2 Ians, Ian Koh and Ian McKee. Both brought up interesting concepts spurring further thought and lively discussion."
Also, here's a story on The Business Times, mostly on Dr Tan Geok Leng, IDAs CTO's speech on wireless ecosystems in Singapore.
In any case, as the organiser for this independent wireless event, I offer my sincere apologies for the late post on UNWIRED 2010 (been away to recharge my batteries after running non-stop for a month for UNWIRED 2010). It's a good thing Chi-loong has done a write-up on his panel last week.
Once again, thanks to all who made it a great success. To start with, the sponsors Samsung, Microsoft and Nokia Siemens Networks.
I also owe a great amount of thanks to the Infocomm Development Authority (IDA), Singapore Management University and industry associations which have helped promote as well as offer all manner of help: Singapore infocomm Technology Federation, Singapore Computer Society, Mobile Monday, Mobile Alliance and Mobile Entertainment Forum.
And most importantly,  thanks to everyone who turned up – helpers and friends offering valuable advice (you know who you are!), speakers and old friends from the industry and also a great audience which had more questions than the time we had for discussion and folks who Tweeted about the event as it was ongoing.
Nothing's perfect, of course. But I'm glad things turned out better than expected. I promise to take your feedback seriously regarding Wi-Fi access next year, and to offer more time for networking!
See you all again for UNWIRED 2011!