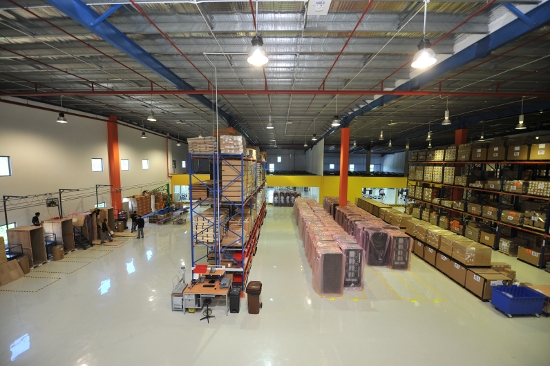 Hitatchi Data Systems (HDS) has just started operations on their one-month old spanking new S$4.6 million Asia Pacific distribution facility in Singapore.
The centre will serve Asia Pacific (excluding Japan), and will serve to bring down shipment times by an average of two business days for customers in the region, said HDS' Frans van Rijn, senior VP and chief logistics officer at a press conference today.
If you're a customer in Singapore, it is even better news — shipments can now be delivered in hours. Prior to having this Asia Pacific distribution facility, HDS had to ship their products from US to Japan and then to the rest of Asia Pacific. This Asia Pacific HDS distribution facility is the third to be built globally and joins HDS' existing distribution facilities in Indianopolis, US and in Waardenburg, Netherlands.
And already, the IT storage and services vendor is quickly running out of space in their 36,000 square feet new facility as growth has exceeded their expectations.
Frans van Rijn said that they had planned to expand the facility in 2011, but "brisk growth" for Asia Pacific — the fastest growing region for HDS in the world — had made them push forward this expansion to next month July 2010. According to HDS, about US$20 to US$30 million worth of products flows through the Asia Pacific distribution centre monthly, and the region makes up about 15 per cent of their global market.
HDS is planning to expand this new facility by 33 per cent more space, or another 12,000 square feet to a total of 48,000 square feet (roughly about half a football field). Headcount is expected to be increased by 15 per cent from the current 25 staff to around 28.
The HDS Asia Pacific distribution facility is located in Singapore's Airport Logistics Park (ALPS), next to Singapore's Changi airport.